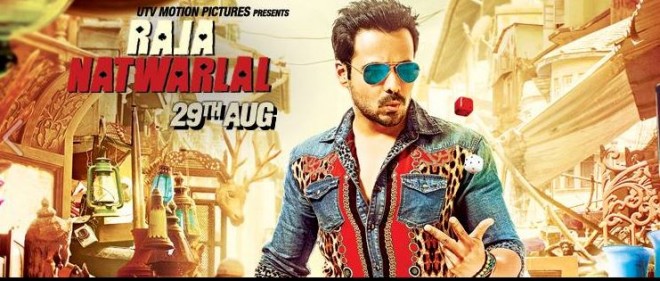 Emraan Hashmi's "Raja Natwarlal" has received mixed reviews from critics upon its release. It is a thriller heist movie directed by Kunal Deshmukh and features Hashmi in the title role.
Pakistani actress Humaima Malik is featured in the female lead role, while Paresh Rawal and Kay Kay Menon are featured in the supporting cast.
"Raja Natwarlal" has all the elements that a Bollywood movie features such as revenge, comedy, some interesting dialogues, romance and convincing performances from main cast. But the film fails to impress the critics with the direction and script.
Read the reviews below:
Rahul Desai of Mumbai Mirror said: "This film is far from perfect, but makes for an acceptable non-Italian version of 'The Indian Job'-by entertaining solely within the confines of a revenge drama. The laughs are best left to Danny and gang."
Sneha May Francis of Emirates 24/7 said: "Kunal Deshmukh's tribute to the legendary conman Natwarlal is muddled with Bollywood staples of song and dance, and a pretty heroine, reducing it into an unlikely romance."
Kusumita Das of Deccan Chronicle said: "The film is packed to the brim with all essentials of a masala-entertainer. The first half holds your attention in setting up the premise. In the second half, the characters shuttle between Cape Town and Mumbai as if they were a few lanes apart.
"But given that Emraan is back as the roadside Romeo hero, and that Bollywood has well trained us to go easy on the logic bit, 'Raja Natwarlal' could just be a watchable fare."
Vishal Verma of Indiaglitz said: "It's a lazy attempt. Director Kunal is able to cover his writer Parveez Sheikh's incompetency in the first half but later he too falls short of ideas as the script doesn,t offer much con thrill moments.
"'Raja Natwarlal' is serially kissing for die hard Emraan Hashmi's lovers otherwise it can be easily exchanged for fresh doughnuts."
Shubha Shetty-Saha of Mid-Day said: "While the film has some truly thrilling moments, it also disappoints in many ways. The lazy script makes some situations seem too simplistic and convenient.
"This film had huge potential but sadly one walks out of the theatre unimpressed by Raja Natwarlal's antics and this film."
Mohar Basu of Koimoi.com said: "Raja Natwarlal is in plain words a very boring film. I won't sugarcoat and say it, I won't be diplomatic but this is one of recent times' most sleep incurring films. Films are bad or good. This one is not merely bad but exhausting to sit through. With Emraan Hashmi sleepwalking through his role and Kay Kay Menon reduced to a fool in the film.
"This is one of Menon's most uninteresting character and given the midas touch of his acting, here's one of those rare films even he couldn't turn around. I wasn't expecting too much but the little I was looking forward to was too much to ask for it seems."