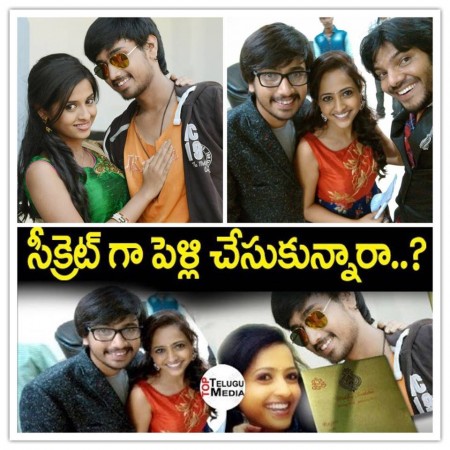 Young actor Raj Tarun, who is basking in the success of Eedo Rakam Aado Rakam, has refuted the rumours about his marriage with TV anchor Laasya in his sarcastic way.
Some sections of the media had recently reported that Raj Tarun had secretly tied the knot with TV anchor Laasya, who he had been dating for some time. The Uyyala Jampala star was apparently upset to read such false reports. He posted a morphed photo on his Facebook account on Saturday and slammed the reports in a sarcastic way.
The actor wrote: "Sabhaku Namaskaram!! Naa sambandham naa pramayam lekunda Kumari 21f audio release lo oke okka sari kalisina Lasya tho naa pelli chesina kontha mandhi media mithrulaki website dhaarulaki naa kruthagnyathalu!! (Hello to everyone! Thank you media friends and website publishers for making my marriage with Laasya who I met only once in Kumari 21F audio release function.)"
Raj Tarun continued: "I am sorry for the sarcasm but i couldn't figure out how else can i respond to all these weird, ridiculous yet very funny rumours. I have no intention of getting married atleast for another 3 years and i am definitely not in a situation where i need to elope. I will surely let everyone know when i get married. Thank u very much for everyone who paid a bit of their attention and time towards this baseless rumour and m extremely sorry to everyone who has no idea abt that rumour and read all this (for wasting your time) Thank u :) - Raj Tarun."
Raj Tarun made his acting debut with director Virinchi Varma's Uyyala Jampala, which was one of the hits of 2013 and he went on to score back-to-back hits with Cinema Choopista Maava and Kumari 21F in 2015. Seethamma Andalu Ramayya Sitralu, his first release in 2016, received a lukewarm response from the audience. His next film Eedo Rakam Aado Rakam, also starring Vishnu Manchu, became a big hit at the box office. Now, he is waiting for the release of his next outing, Raju Gadu Yama Danger.