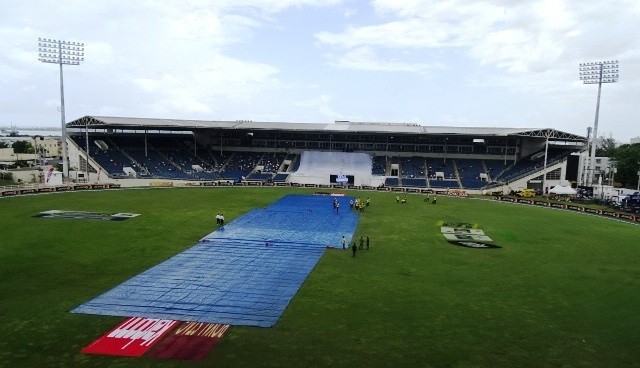 Virat Kohli will be telling himself "Ok, we've got one full day left," but he will also be now regretting the fact that India took so much time building their first innings lead, after only 15.5 overs were bowled on day four of the second Test match against the West Indies in Jamaica.
Rain was predicted on Tuesday, owing to a storm on the islands, and so it proved to be with wet weather leading to the fourth day being seriously curtailed.
India, however, made the most of Day 4, whatever little of it there was, with Mohammed Shami smashing through West Indies' two most experience batsmen – Marlon Samuels and Darren Bravo – while Ishant Sharma and Amit Mishra grabbed a wicket each to leave the home team on 48/4.
West Indies trail India by 256 runs, and while that equation is not expected to come into play, what will is the rain. If the wet weather stays away, then India look like taking a 2-0 lead, particularly going by the diabolical manner in which the West Indies top order caved in.
Knowing that it was going to be a stop-start day, all the West Indies batsmen had to do was frustrate the India bowlers, and let them make the mistakes; instead, they handed the visitors momentum and wickets on a plate.
The first to do so was Rajendra Chandrika (1, 4b), whose late decision to leave an Ishant Sharma delivery meant the ball hit his elbow before disturbing the stumps. That wicket, in the third over of the third innings, was soon followed by a rain interruption, one of many, and while Kraigg Brathwaite and Darren Bravo stuck around for ten-and-a-half overs when play did return, the wickets just kept coming.
Brathwaite (23, 45b, 3x4), the only batsmen who looked anything close to comfortable at the crease, was dismissed by Amit Mishra, after a top edge off a pull shot attempt was pouched by KL Rahul.
Then it would be Shami's turn to impress, with the India fast bowler, first, sending Samuels' (0, 5b) off stump cartwheeling off a peach of a delivery that moved away after pitching.
In the penultimate ball before Lunch – yup, those breaks will never be changed – Shami ended Bravo's unconvincing stay at the crease courtesy a snorter that was fired into the left-hander's chest from around the wicket. All Bravo (20, 37b, 3x4) did was try and fend the ball off, with the ball lobbing up to Rahul in the slips.
There was no rain as the players took Lunch, and just when they were about to return to the field after the 40-minute break, the weather Gods decide to bring those dark clouds back. What followed was a will-we-won't-we-get-some-play game, with the rain eventually winning out.
Fall of wickets: West Indies second innings: 5/1, 2.3 overs (Rajendra Chandrika); 41/2, 13 overs (Kraigg Brathwaite); 41/3, 13.5 overs (Marlon Samuels); 48/4, 15.5 overs (Darren Bravo).