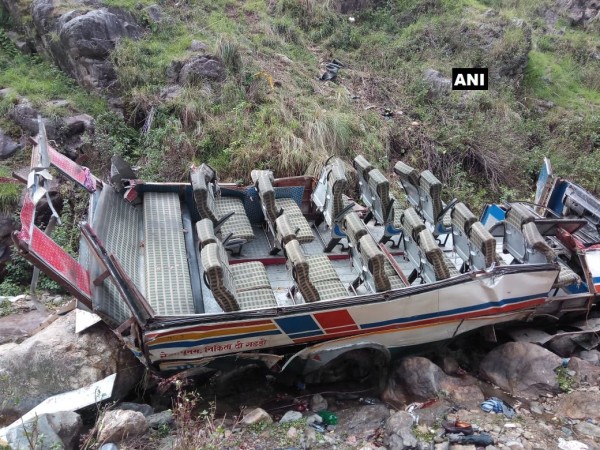 At least 33 university staffers were killed and one miraculously survived when a private bus on a picnic trip plunged into a deep ravine near Poladpur, around 175 km from Mumbai, on Saturday morning.
The sole survivor, Prakash Sawant-Desai, who escaped the tragedy with minor injuries, managed to climb to safety and alerted the university and police authorities of the accident around 10:30 am.
According to Raigad Police Control officer PD Patil, the bus was on way to Mahabaleshwar for a weekend picnic when the tragedy occurred.
By noon around 12 bodies were retrieved with the help of locals, he said.
The bus was carrying students and teachers from Dr Balasaaheb Sawant Konkan Krishi Vidyapeeth, an agricultural university at Dapoli in Ratnagiri district, on a picnic to Mahabaleshawar.
The survivor told reporters that the bus lost control after skidding on wet mud that had collected on a trecherous stretch near Poladpur. He had to climb over 500 feet, as there was no mobile phone range in the valley below in the treacherous Ambenali Ghat section.
Sawant-Desai, who is an Assistant Director, said:
I managed to climb up and called up Dr Balasaaheb Sawant Konkan Agriculture University authorities and the police.

On reaching the road at the top, I came into the mobile range and called up the police and university officials.
The university promptly informed the police about the accident.
The Raigad police along with National Disaster Response Force teams from Pune and local Mahabaleshwar hikers-trekkers groups are engaged in a massive operation to retrieve the bodies from the ravine fighting heavy rains, with clouds descending on the thickly forested valley and hills.
Around 34 varsity staffers, including some women of the Ratnagiri-based university, left around 6:30 am on Saturday for a weekend sojourn to the state's most popular twin hill resort of Mahabaleshwar-Panchgani.
Hundreds of shocked family members of the victims and varsity officials have rushed to the site. The police have blocked the Poladpur-Mahabaleshwar road as a precautionary measure.
Deep below in the ravine, the remains of the bus lie as a crumpled heap of metal, with bodies of the passengers strewn around or stuck in the trees and bushes.
Prime Minister Narendra Modi has expressed sorrow over the accident
Pained by the loss of lives due to a bus accident in Maharashtra's Raigad district. My condolences to those who lost their loved ones: PM @narendramodi

— PMO India (@PMOIndia) July 28, 2018
Congress President Rahul Gandhi too tweeted and asked party workers in the area to extend help.
Chief Minister Devendra Fadnavis in Mumbai also expressed his this sorrow and said that emergency services are available.
Pained to know about the loss of lives in Mahabaleshwar bus accident.Administration taking all efforts to provide required assistance.
Senior officials&emergency management systems in place.
My thoughts are with families who lost loved ones&prayers for speedy recovery of injured.

— Devendra Fadnavis (@Dev_Fadnavis) July 28, 2018
[With inputs from IANS]