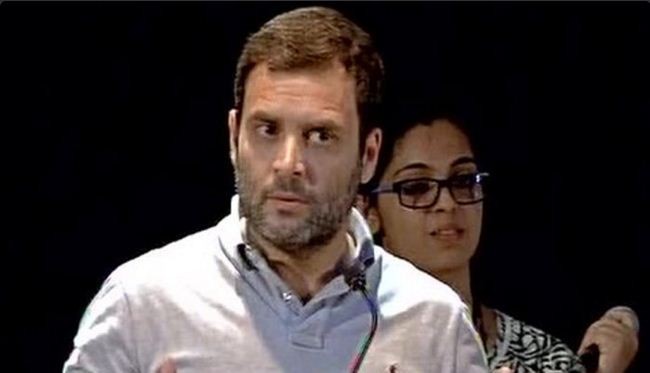 Congress Vice-President Rahul Gandhi was on Saturday trolled both in the real and virtual world as he attended the boxing match between Vijender Singh and Kerry Hope for the WBO Asia Pacific title at the Thyagaraj Sports Complex in New Delhi. Vijender may have won the match as well as the title, but the Congress would have felt like the loser in this interaction, given the way the public reacted to Rahul's presence in the arena.
It started as soon as Rahul entered the arena in casual attire — a grey t-shirt and denims. The crowd seemed to pull no punch in first booing the Congress leader, and then chanting "Modi! Modi!" The chant of the prime minister's name only reinforced the public sentiment that was on display at the arena.
And the hits did not stop there. Rahul received an encore of the spectators' performance when he was leaving the arena after the bout. However, he took it like a champ, and walked out of the arena with a smile after Vijender's victory.
Interestingly, MC Mary Kom, the pugilist who has been portrayed on the big screen by Priyanka Chopra in a film that bore her own name, was greeted with generous applause and acknowledged it with a show of emotion.
Meanwhile, Rahul's misfortune did not end there, as Twitterati took to trolling him. While some likened him to two children who had sought him out for autograph in the arena, others used sporting analogy to say although the match was between Vijender and Kerry, Rahul was the one who was knocked out!
Interestingly, this is not the first time Rahul has been trolled like this in person. Speaking at a function at Bangalore's Mount Carmel College, he said he did not seen Modi's Swachh Bharat Abhiyan working, and had asked the students if they saw it working. The students had replied with a resounding "YES!"
Read some of the more humorous responses to Rahul Gandhi's presence at the boxing match here: