Congress vice-president Rahul Gandhi launched Karnataka government's flagship project 'Indira Canteen' in Bengaluru on Wednesday along with Chief Minister Siddaramaiah, who termed it as a "historic day" in the state's fight against "hunger and malnutrition."
Gandhi, who inaugurated the first canteen on Kanakanapalya Main Road in Jayanagar, wrote on Twitter: "Indira Canteen is another step towards the "Food for All" commitment of the Congress. I congratulate the Karnataka Govt for this initiative." Gandhi, along with other dignitaries, was among the first to taste the food following the inauguration.
Later, at a public rally, Gandhi said that he was "proud that it is a Congress government that conceptualised this canteen." The Indira Canteen will serve breakfast for Rs 5 and lunch and dinner for Rs 10. Lunch will reportedly be served free for all on Wednesdays.
Siddaramaiah also took to Twitter to laud the initiative and said: "Indira Canteen will play a significant role in alleviating urban hunger, especially helping the working class and migrant labour in #NammaBengaluru." The Karnataka CM had announced the project on March 15 this year while presenting the state budget.
While Gandhi launched the first canteen on Wednesday morning, 100 other canteens will open in different areas across Bengaluru in the evening. Several will be opened in another 97 wards on October 2 to mark Mahatma Gandhi's birthday, the Indian Express reported.
What's on the menu?
The menu consists of local dishes like idli, pongal, curd rice, puliyogare, khara bhat, chow chow bhat, sambar-rice, rave kichidi, chitranna, vangibhat and other dishes. Breakfast will mostly consist of idlis while anna-sambar will be available for lunch, Bangalore Mirror reported. Different varieties of chutney will also be available.
Caterers will prepare the food in 27 centralised kitchens being built by the Bruhat Bengaluru Mahanagara Palike (BBMP) in 27 constituencies of Bengaluru. The food will be cooked in these centralised kitchens and then supplied to all the other canteens in the respective constituencies.
Around 300-500 people will be served food in each canteen every day for each session (breakfast, lunch and dinner). Breakfast will be available from 7.30 am to 10 am while lunch will be served from 12.30 pm to 3 pm and dinner from 7.30 pm to 9 pm. The contractor will be fined Rs 5,000 if he fails to deliver food to the canteens.
The canteen buildings have been designed by Greek architect Spyros Tsoukantas and Polish designer Marcin, Bangalore Mirror reported. Each canteen building takes eight days to build — four days of construction and four days for the finishing. All canteens were constructed using 78 prefabricated elements.
Each canteen will be equipped with a 22-litre water tank and also have RO plants to provide potable water to the people.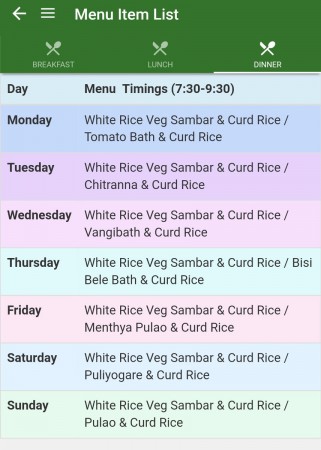 Digital signboards have also been installed in each canteen. BBMP commissioner Manjunatha Prasad said: "The main reason behind installing digital signboards is to avoid incidents of rage while standing in queues. After waiting in a long queue, it is natural for people to get frustrated if they are told there is no food. Digital signboards will show availability status so that there will be no hostile situation."
Canteens will also have CCTV cameras and security personnel guarding them 24 hours every day.
Obstacles to construction of Indira Canteen
The BBMP faced quite a few obstacles while on its road to construct the Indira canteens across the city from objection by residents to problems with the land allocated to construct these canteens.
According to Bangalore Mirror, trees were chopped while parks were encroached upon for the construction of these canteens. Residents on Old Airport Road said that the canteen was too close to the main road and would cause a traffic jam if opened.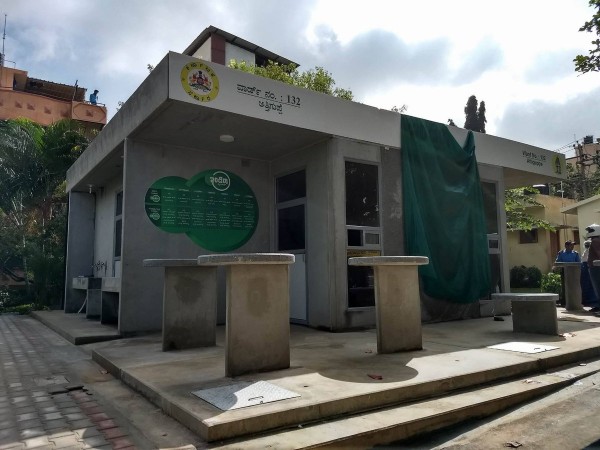 Meanwhile, those residing in Banashankari opposed the project saying that the canteen was being constructed on temple premises. In Domlur, the canteen was to be constructed at the Shankar Nag Park but residents raised objections saying that the park would become congested if the canteen was built.
The Indira canteen constructed on New BEL Road in front of Kanti Sweets was a "dumping yard." Prasad told Bangalore Mirror: "Can you see this canteen here? This was a dumping yard for over 20 years. We cleared this place and later a few miscreants tried to occupy this space. We finally got the land back after a criminal case was booked in Sanjay Nagar police station."
Indira Canteen mobile app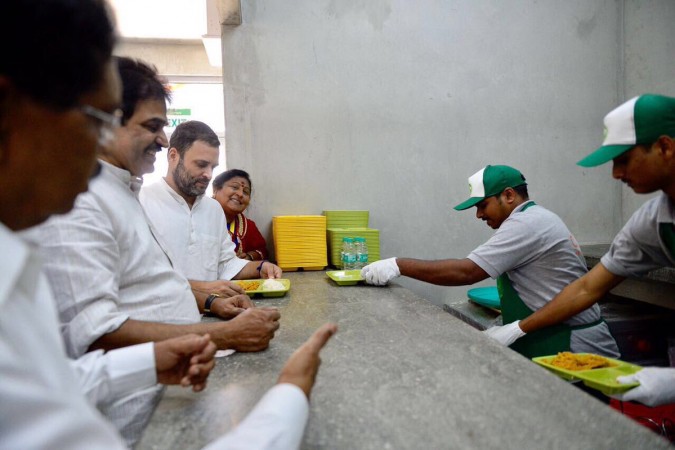 The BBMP has launched an Indira Canteen mobile app that has already been downloaded by around 1,200 Android users. Citizens can use the app to identify the nearest canteen with Google Maps directing them to the location.
Users can also use the app to find out the quantity of every dish served to them at each canteen.
Download #IndiraCanteen App and stop worrying about Oota, Thindi in #Bengaluru !! Rs.5 thindi and Rs.10 Oota!! pic.twitter.com/Aal5ysOm32

— DP SATISH (@dp_satish) August 16, 2017