Congress vice-president Rahul Gandhi, who is likely to be elevated as party president next month, has goofed up again. While expressing grief over the demise of Marshal of Indian Air Force Arjan Singh, he referred to him as Air Marshal.
Marshal of Indian Air Force is five star rank while Air Marshal is four star rank, the twitterati pointed out to the Gandhi scion. Soon, the 47-year-old leader rectified the mistake and posted a corrected tweet.
A soldier &diplomat par excellence,Marshal of IAF Arjan Singh's demise is an irreparable loss.India has lost a true hero.Deepest condolences

— Office of RG (@OfficeOfRG) September 16, 2017
Nonetheless, that was not the first gaffe by Rahul Gandhi that had the social media cracking up. He should take extra care while making public statements, especially, at a time when he is all likely to be crowned as the grand old party's next president.
Senior Congress leader Veerappa Moily on Friday said that the Gandhi scion was looking forward to an internal election to emerge as the party president.
A democratic process?
If things go as planned, Rahul Gandhi will be campaigning in the upcoming Gujarat and Himachal Pradesh polls as president. He wants the big decision to be taken through a poll in the party, instead of being nominated by the AICC Working Committee.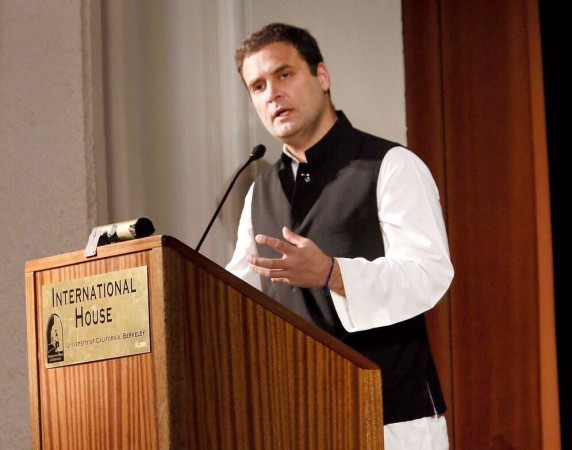 Also Read: Rahul to Replace Sonia Gandhi as Congress President in April
Since he wants to be be the president through a democratic process, who will be contesting for the top post along with him? A few months back, there was an online petition asking the Congress party to announce Shashi Tharoor as the UPA's prime ministerial candidate for 2019 general elections.
The petition, which was disowned by Tharoor, received as many as 16,000 votes.
However, as Congress vice-president, Rahul has hardly any achievements to boast of. On the poll front, the Congress lost almost all the elections in which Gandhi spearheaded its campaign. It also saw the ground under its feet shifting, as the ruling BJP has been growing by leaps and bounds.
Some Congress leaders have demanded, some of them secretly, that his sister Priyanka Gandhi should be brought into save the party, which was reduced to 44 seats in Lok Sabha from 206 after 2014 elections.
One needs to wait and watch how Rahul Gandhi would deal with the pent-up dissent and lack of confidence in him that eventually prompted some sections in the party to rest their hopes in his sister and Shashi Tharoor. The Congress party's heir apparent will also find it an uphill task to bind together the warring factions in the party and fight the major battle of 2019 that would decide the fate of the grand old party.