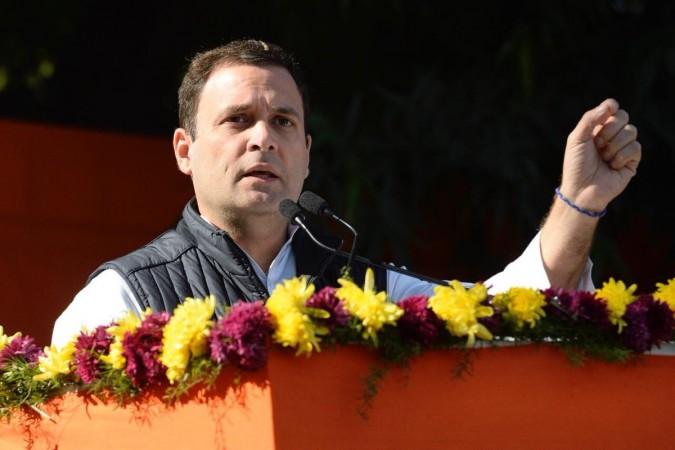 Congress president Rahul Gandhi may be jailed for two years in connection with a defamation case filed against him by a Rashtriya Swayamsevak Sangh (RSS) worker. However, Rahul, who attended a hearing at a court in Bhiwandi in Thane, Maharashtra, on Tuesday (June 12) has "pleaded not guilty."
Why Rahul Gandhi could be jailed for 2 years?
The defamation case was filed against the Congress party boss by a local worker of the RSS - Rajesh Kunte.
Kunte had filed the criminal defamation case owing to Rahul's alleged statement at an election rally, which was held on March 6, 2014. In his speech, the now Congress president had linked the RSS to Mahatma Gandhi's assassination.
"The RSS people had killed (Mahatma) Gandhi," Rahul had reportedly said.
This did not go down well with the RSS and a case under section 499 (defamation by libel or slander) and 500 (defamation punishment) of the India Penal Code was registered.
What does the law say?
The section 499 of IPC states that "whoever, by words either spoken or intended to be read, or by signs or by visible representations, makes or publishes any imputation concerning any person intending to harm, or knowing or having reason to believe that such imputation will harm, the reputation of such person, is said, except in the cases hereinafter expected, to defame that person."
If proven guilty, Sonia Gandhi's son will be sent to prison as section 500 of the IPC states that "whoever defames another shall be punished with simple imprisonment for a term which may extend to two years, or with fine, or with both."
Congress president pleads not guilty
Rahul Gandhi had earlier appeared in the court in connection to this case on May 2. He had refuted the allegations and had said, "I stand by each and every word. I will never take my words back".
He was asked to attend the hearing session again on June 12 and he chose to stick to his words. When the judge asked him "Do you plead guilty?" he firmly replied, "I plead not guilty."
According to ANI, the next date of hearing is August 10.