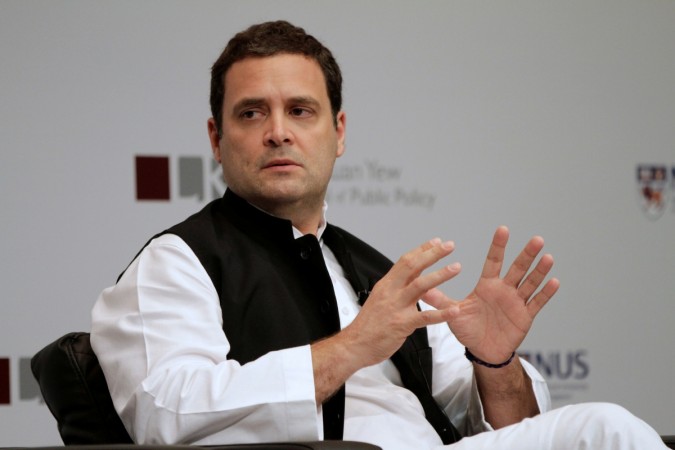 Rahul Gandhi has changed his twitter handle after several people criticized his previous handle "OfficeofRG." The Congress president is now known as just Rahul Gandhi on Twitter.
The micro-blogging site has been abuzz with people talking about the change and some users are clearly having a ball taking digs at the Congress President. Some even seem to be wondering if "Pidi" will continue tweeting for Gandhi.
In October 2017, the Congress president had joked that he doesn't tweet for himself but it was his dog Pidi, who was in charge of his twitter account.
Ppl been asking who tweets for this guy..I'm coming clean..it's me..Pidi..I'm way ? than him. Look what I can do with a tweet..oops..treat! pic.twitter.com/fkQwye94a5

— Rahul Gandhi (@RahulGandhi) October 29, 2017
His previous handle has often been called "pretentious," but the new handle too has clearly not impressed many. Here are a few reactions.
PIDI has finally broken alliance with the RAGA

— Kuldeep Baranwal (@kuldeepbaran) March 17, 2018
Hope he use it himself....it will be more entertaining to read papu's hilarious words....

But we know handler will be same for both @OfficeOfRG & @RahulGandhi

— Santosh Kumar Gouda (@sant_tiki) March 17, 2018
More comedy in Twitter.. Welcome Mr. Bean of India

— PrestituteMuktBharat (@parthar10) March 17, 2018
Gandhi has often been questioned about his tweets and he had earlier said that he focuses on specific issues and instructs his communication team to do the same.
"Actually, whatever is to be said, if it is well thought out, can be said in a few words. I reflect and give suggestions to my communication team and we tweet after fine- tuning them," the Times of India quoted Gandhi as saying earlier.
"Generally, I do not tweet routine things such as best wishes, like the birthday of (L K) Advaniji. My thinking goes into political tweets."