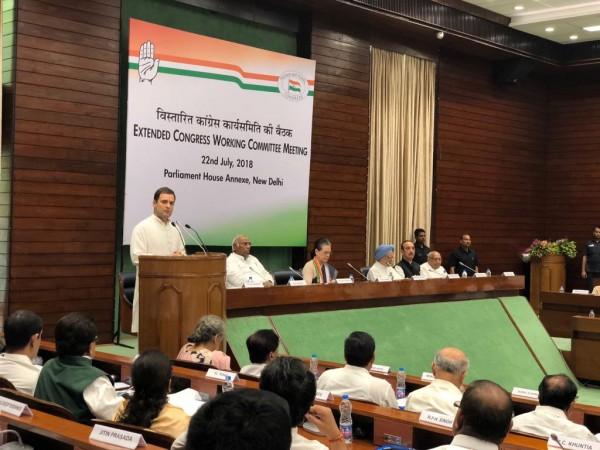 Just days after Congress president Rahul Gandhi took the nation by storm with his unprecedented hug and an impromptu wink, the Nehru-Gandhi scion chaired his first meeting of the revamped Congress Working Committee (CWC) on Sunday, July 22.
The meeting in Delhi focused on discussions involving strategies to prepare for the 2019 Lok Sabha elections. Apart from Rahul, the key speakers at the meeting include former party president Sonia Gandhi and Congress general secretary Ashok Gehlot.
Rahul had reconstituted the Congress high command with a mix of highly-experienced partymen and next-generation leaders. The revamped Congress committee includes 23 regular members, 19 permanent invitees, and nine special invitees, reports NDTV.
The meeting is being attended by Congress state chiefs, secretaries, joint secretaries, heads of departments and cells among other party functionaries.
The permanent invitees include former Delhi Chief Minister Sheila Dikshit, P Chidambaram, Jyotiraditya Scindia, Manmohan Singh, Randeep Surjewala and PC Chacko. Several former Congress chief ministers like Oommen Chandy, Siddharamaiah and Tarun Gogoi were also invited to be a part of the meeting.
Earlier, Rahul's speech against the Bharatiya Janata Party during the no-confidence motion debate in Lok Sabha had earned him many plaudits.
"The no-confidence motion was a launch pad for the Congress' campaign for the 2019 elections. Rahulji's speech marked the beginning of the end of Modi and his government. The countdown has started as evident from Modi's weak response and a fake smile," AICC secretary Prakash Joshi was quoted as saying by Hindustan Times.
"When the Prime Minister goes abroad and hugs world leaders, what will we call that? By hugging the Prime Minister, Rahul Gandhiji only tried to give a message of love, peace, non-violence, and brotherhood," Gehlot told HT.