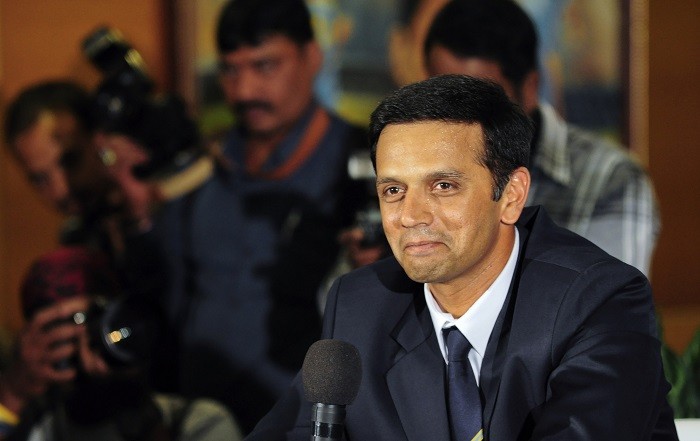 According to various reports, the Board of Control for Cricket in India (BCCI) are likely to name Rahul Dravid as the coach of the India's junior cricket teams, including Under-19 and Under-16.
BCCI on Monday had announced the names of the legendary trio of Sachin Tendulkar, Sourav Ganguly and VVS Laxman who will be a part of the newly-formed BCCI Advisory Committee. Dravid's name went missing from that panel and that raised a lot of eyebrows.
BCCI had reportedly approached Dravid to be a part of the newly-constituted elite panel, but he refused the opportunity, ciing other commitments.
A source close to BCCI has told ESPNCricinfo that the Board have "a role" for Dravid in mind but refused to specify any details.
"For any cricketer of that stature, BCCI would like to have their services. When the time comes, an announcement will be made. Not everybody can be on the same panel," BCCI secretary Anurag Thakur told the reporters when asked about Rahul Dravid's status.
Dravid is now being considered for the role of the coach of India's junior cricket teams, including Under-16, Under-19 and 'A' teams. As Dravid enjoys working with the younger lot, reports suggest that BCCI might announce his name officially for this role.
Dravid has been the mentor of Rajasthan Royals for the last couple of seasons and has mentored players like Sanju Samson, Karun Nair, Deepak Hooda and others.
Previously, Dravid has played the role of a mentor of the Indian Cricket Team when they were touring England in 2014. Several players had spoken very highly about the former Indian batting legend post that tour.
Rahul Dravid's name has been doing the rounds for the position of the head coach of India. But as he has a young family, Dravid is reluctant to accept a full-time job that requires a lot of travelling.
"He (Dravid) is very much in our scheme of things. We have put a structure in place. We would like Rahul to take up a role. Indian cricket's restructuring will be incomplete without Rahul Dravid's contribution," BCCI president Jagmohan Dalmiya said in an interview to India Today.