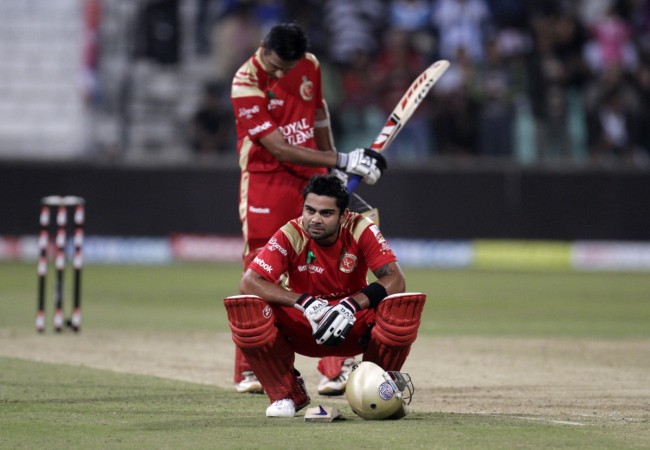 Rahul Dravid, one of the most-respected voices in world cricket, has a strong message to all the youngsters who try to copy Indian captain Virat Kohli.
The batting legend elaborated on Kohli's style of playing and advised young cricketers against going the same way like the Delhi right-hander.
For Dravid, the youngsters who take up cricket should be "authentic" to themselves rather than trying to be aggressive as Kohli which might not work in their favour.
Dravid, who is now India Under-19 and 'A' teams coach, said it was a "scary thing" to think of youngsters aping Kohli on the field.
"What worries me a little bit is a lot of that (Kohli's style) gets translated into junior cricket. That's the scary thing for me, not so much what Virat does. Kids at 12, 13, 14 want to become the next Virat Kohli, not realising that maybe that's not authentic to who they are," the 164-Test veteran said at the Bangalore Literature Festival.
Dravid, who played with Kohli for Royal Challengers Bangalore (RCB) in the Indian Premier League (IPL), hit the nail on the head when he said it was performance which mattered on the field.
"I think the game is still about performance. So let's not take that way from someone like Kohli. That's his personality. People have asked me, 'Why didn't you behave like that?' But that's not what got the best out of me. I would have been inauthentic to myself if I had tried to put tattoos and behave like Virat," Dravid opined.
The 44-year-old Dravid said he would "cringe at times" reading about Kohli's "outrageous" comments before a series.
"Sometimes, especially before an Australia series, you'll find Virat saying the most outrageous things. And I read the paper and cringe at times. But then I think back, maybe he actually wants that contest. He wants that lip on the field because that gets the best out of him.
"Now that might not be everyone's cup of tea. But at the end of the day, he's got to do what gets the best out of him. Ajinkya Rahane is very different and he gets the best out of himself by doing different things. I think being authentic to yourself is very, very important.
"If engaging in a contest, sometimes needling the opposition, is getting the best out of Virat - and it certainly is because his level of performance is second to none in the world today - then so be it. You can't blame him for it."