Spanish ace Rafael Nadal said Sunday, April 22, that coming to terms with the fact that he is in the twilight of his career has helped him enjoy every game and play with "full passion and full energy" in the recent past.
Nadal's comments came after he won his 11th tile at Monte Carlo Masters after beating Kei Nishikori in straight sets Sunday. The 31-year-old added the clay-court title in one of his favorite venues "meant a lot" to him as it was the first tournament he completed in the ongoing season.
The world number one had not played a full tournament since the Shanghai Masters in November 2017 due to injury concerns. He was forced to withdraw in the quarter-final of Australian Open in January with a hip injury and its recurrence saw him miss Acapulco Open and the Sunshine tournaments in Indian Wells and Miami.
Nadal though quashed doubts over his fitness with a dominant display on clay-court last week at the Principality. He did not drop a set throughout the tournament and took his set wins streak on the red dirt to a career-best 36 Sunday.
"My true feeling is these kind of things are not going to happen forever, so I just try to enjoy them and to play with the full passion and with the full energy and concentration, full love for the sport until I can," Nadal said, as quoted by ATP's official website.
"I know the day to say goodbye is closer than 10 years ago. It is something that I am not worried about, but it is a real thing. So I am just enjoying every day and trying to play with the best attitude possible, to keep being happy playing tennis. That's all," he added.
"Winning again this title here in Monte-Carlo means a lot, especially because it is the first tournament in the year that I finished.
"To have the victory in a Masters 1000, especially in Monte-Carlo, that for me is one of the most important ones in terms of personal feeling and in terms of the history of our sport. I am very excited and very happy for everything."
11 titles in Monte Carlo, unbelievable: Nadal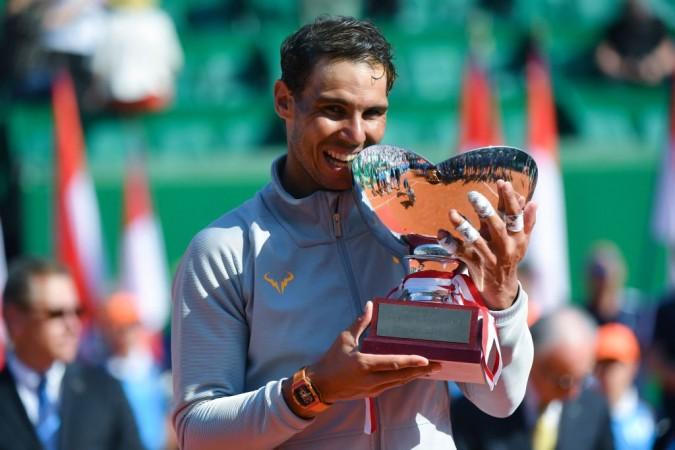 Sunday's win also saw Nadal overtaking Novak Djokovic to become the first man to win 31st Masters 1000 titles.
The 16-time Grand Slam champion, while reflecting on the success he has had in Monte Carlo over the years, said he doubts if his record of 11 titles would be emulated in the future. Notably, his clay-court rival Djokovic has managed only two titles at the iconic clay-court tournament while Roger Federer has not managed to win it even once.
"But 11 titles here, it's unbelievable, so it's something difficult to imagine. I always say the same: If I did it, somebody else can do it. But it is very difficult," the clay-court superstar said.
"I really don't know how these things can happen because it is lot of years without making mistakes and without being unlucky in this week."
Nadal will now be heading to Barcelona where he will begin his campaign for an 11th title in the ATP 500 tournament, starting Monday (April 23), in the Spanish city.
Watch: Rafael Nadal vs Kei Nishikori - Monte Carlo Masters 2018 final highlights