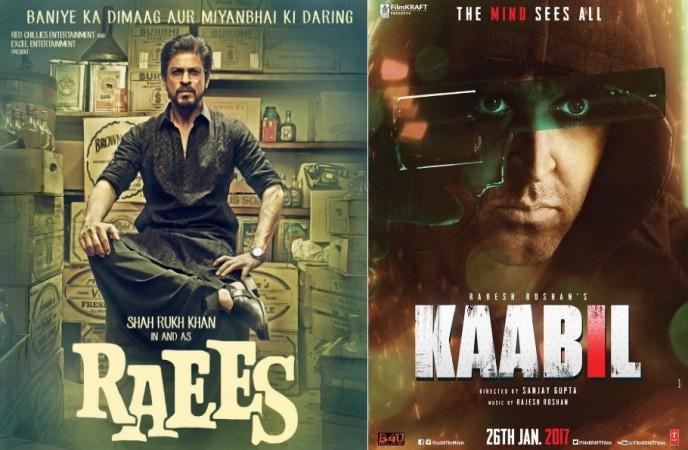 The much-awaited trailer of Shah Rukh Khan's Raees is out and it has been receiving a positive response from all corners. Fans, as well as critics, have appreciated the action-packed trailer of Raees.
The trailer of Shah Rukh Khan's Raees also revealed that the movie will clash with Hrithik Roshan-starrer Kaabil. The trailer of Kaabil was released some time back and that too had been applauded by the viewers.
While the makers of Kaabil had earlier announced that the film will be released a day before its previously scheduled date of January 26, the trailer of Raees revealed that the release date of SRK-starrer has also been shifted to January 25.
This will be a massive box office clash between Raees and Kaabil. These two are on the list of most awaited Bollywood flicks and the trailers of both the movies look impressive. While the first part of the trailer of Hrithik's Kaabil showed a sweet love chemistry between the actor and Yami Gautam, the second half is full of action.
On the other side, Raees trailer has more action and intense dialogues. It showed a little bit of romance in the middle of the trailer between SRK and Mahira Khan. Although Shah Rukh was seen in Dear Zindagi recently, his last full-fledged movie was Fan. And Hrithik was last seen in Mohenjo Daro.
While Fan had failed to create the expected impact at the box office, Mohenjo Daro had turned out to be a disaster. Hence, Raees and Kaabil will be very crucial for Shah Rukh and Hrithik respectively. Check the trailers of Raees and Kaabil below and click here to vote for the one that you liked most.