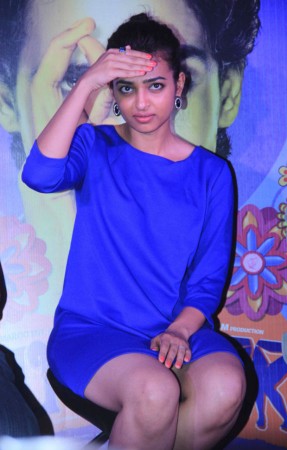 In a shocking incident, a semi-nude video of "Badlapur" actress Radhika Apte has gone viral on social media.
The video has gone viral on Twitter and has been shared on messaging app WhatsApp several times. The video, which shows her exposing her private parts before camera, was in fact a scene from a 20-minute short film directed by Anurag Kashyap.
Check out Radhika Apte's photos here.
The short film, which was shot only for international market, was released in New York a month ago.
Explaining about the shooting of the scene, the "Bombay Velvet" director said that the scene required Radhika to lift her dress and show her lower front part.
The scene was shot with extra care and only women crew was hired to shoot the scene. Post-production work was also handled by women, Kashyap explained to The Times of India.
"You try to take a step forward as a filmmaker, they take you five steps back. And she feels victimised and I feel responsible. I called up our police commissioner Rakesh Maria as soon as I came to know of it and he immediately acted upon it. He immediately called ACP crime branch Mr Prasanna and he had put the cyber crime branch to work on it on priority. I am confident that they will eventually catch the guy who started it," Kashyap told the daily.
Earlier this year, nude photos of Apte went viral on social media, but the actress clarified saying that the woman in the photo was her lookalike.
"You guys! If you're going to get someone to pass off as naked me, she needs to look a lot more like me," she tweeted.