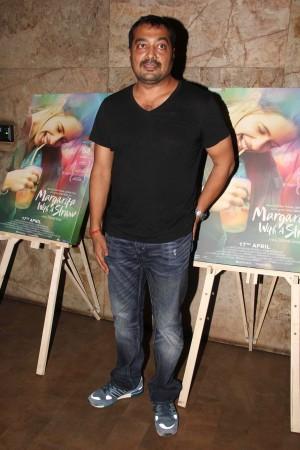 Reports claiming that Radhika Apte's leaked nude scene video is a publicity stunt has irked filmmaker Anurag Kashyap. The director, who was furious over the leak of the video, has lashed out at media portals for calling the leaked video a publicity stunt.
The video of actress Radhika exposing her lower front part was leaked earlier this week. The concerned video was apparently a scene from her short film directed by Anurag.
After the video went viral, Anurag said that he feels responsible for the leak. He also explained that the particular shot in which Radhika was seen exposing her private parts, was shot with utmost care.
But few online portals reported that the leaked video was a publicity stunt. Furious Anurag later took to Twitter to clarify that the video wasn't leaked for publicity.
In a series of tweets, he blasted the media calling it "sick media and sick minds."
"Media portals are worst than the perverts of Social Media. Only a sick mind can suggest that video leak is for promotion," he tweeted.
"For the record the film is delivered and leak is from NY and the producers office in NY is investigating it and so is Crime Branch."
"And soon we will have the culprit.. Sick media and sick minds."
Meanwhile, cyber crime department of Mumbai police has registered an FIR after Anurag filed complaint against unknown persons.
Additional Commissioner of police (Crime) K M M Prasanna said that the clip, which has gone viral on Twitter and WhatsApp, has been pulled down from several sites.
"We were approached by Anurag Kashyap, who told us that a clip of a movie was leaked and has gone viral. Taking into account the sensitivity of the case, we have pulled it down from various websites and we are enquiring into the matter," Prasanna said, according to DNA.