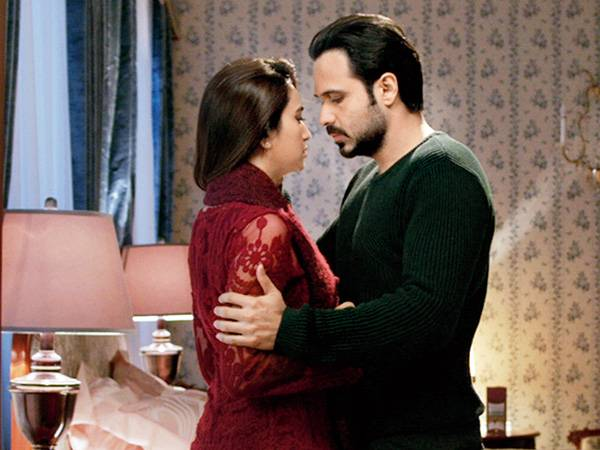 Director Vikram Bhatt's Bollywood movie "Raaz: Reboot," featuring Emraan Hashmi and Kriti Kharbanda in the lead roles, has received positive reviews from the audience around the world.
Raaz: Reboot movie stills | Movie Poster
"Raaz: Reboot" is a romantic suspense thriller movie, which is the fourth instalment in the horror film series – "Raaz." Vikram Bhatt has written the story and screenplay for the film, while Girish Dhamija has penned dialogues for it. The success of the first three films in the series has created a lot of expectations from this movie. Adding to this, its promos have generated curiosity about the plot of the movie.
"Raaz: Reboot" revolves around the story of a married couple living in Romania. Shaina (Kriti Kharbanda) and Rehaan (Gaurav Arora) begin to hide something from each other. What is it that they hide? How does Emraan Hashmi enter their lives? The answers to these questions form the crux of the story.
Kannada actress Kriti Kharbanda, who makes her debut in Bollywood with "Raaz: Reboot," has done a good job and impressed everyone. Gaurav Arora has also delivered good performance. Emraan Hashmi has played the role of a villain and has an extended cameo appearance. His portions are big attractions of the movie, say the viewers.
Mukesh, Mahesh and Vishesh Bhatt, Bhushan and Krishan Kumar have jointly produced "Raaz: Reboot" under the banners Vishesh Films and T-Series. The film has good production values and music, picturisation and special effects are the big attractions on the technical front, say the audience.
We bring to you some viewers' verdict on the film shared on Twitter. Here is the live update of "Raaz: Reboot" movie review by audience:
Immy parkar ‏@imtiazparker
Just watch #RaazReboot in dubai it's amazing movie horror franchise @emraanhashmi u R amazing brilliant acting ones again @TheVikramBhatt. Raaz Reboot #MovieReview Superb horror entertainer!Woooow what a twist #RaazReboot brilliant performances by Emraan Hashmi Kriti Kharbanda Gaurav Arora Superb Impressed #RaazRebootReview my rating 4 / 5 popcorns !! Must watch.
Priya Ranjan Pradhan ‏@ibapuni
#RaazReboot an exciting experience,dazzling,entertaining & thought-provoking @TheVikramBhatt masterpiece @emraanhashmi @kriti_official shine
Mona Sulaiman ‏@MoonSulaiman
@emraanhashmi Wht an awsome film n good story loved ur entry n the way u presented well done @MeGauravArora well done ! Superb work done at #RaazReboot cool story all the best gaurav
Umair Sandhu @sandhumerry
Exclusive Review of #RaazReboot..!!! Paisa Vasool Massy film of the Year with Good Performances & Soulful Music. As per performances, #EmraanHashmi is Back with Super Bang ! He gave TOP NOTCH Performance. His Masses fans will love this character in the film. #KritiKharbanda Welcome to Bollywood ! She acts very well & she looks Stunning throughout the film. She acts very well specially in Horror Sequences. #GauravArora is also first Rate in the movie. Cinematography of #Romania is eye catching ! Music by #JeetGannguly is very Soulful. #LoMaanLiya is already a Chartbuster all over. Story & Screenlpay is good despite some loopholes. Direction by " The King of Horror Cinema in India " #VikramBhatt is Superb. He directed Thrilling & Chilling Horror Scenes very well. Background Score is Fantastic, Editing is Above Average, Production Designing is Classy & Excellent, it has Geniune Scary Moments that will scare the audience surely !! VFX is first rate in the movie. Overall " Masses & Emraan Hashmi Fans will love this flick " Go for it ! ☆☆☆1/2 ! 3.5*/5*.
AlwaysBollywood ‏@AlwaysBollywood
#RaazReboot review : #RaazReboot review : This one lives up to its expectations as a brand.. The legacy of horror continues and this time its too scarry.. @emraanhashmi excels here with the impression of undisputed king of romantic- horror genre movies. He is good as always. The biggest surprise is @kriti_official ..U dont ever feel its her debut hindi movie..She is flawless througout.. #RaazReboot review : Final advice..Dont watch it alone .Go with friends...It will scare the hell out of you.. @emraanhashmi @kriti_official
Sadik ‏@sadik4
#RaazReboot is good movie with good direction. @emraanhashmi has done great job. Superb @TheVikramBhatt @MaheshNBhatt
Swudzy ‏@Swudzy
#RaazReboot #IntervalReport @TheVikramBhatt succeeds in engaging us. A story that is interesting with scares at right places. #SoFarSoGood
AAVISHKAR ‏@imaavi
Just watched #RaazReboot ! Chilling , thrilling and Amazing :D Paissaa vassol ! Loved @emraanhashmi and @kriti_official #SuperHit !3.5/5*
KKHH FanBoy ‏@SRKrider1
Completed Watching #RaazReboot Good Watchable but not worthy of RAAZ Sequel specially as the next part of epic RAAZ3 VIkram Bhatt should give it as a new name..cann't understand why he wasted SuperHit Brand like 1920 & Raaz in this way :/ 2/3 Still Movie is GOOD .u can enjoy it if u watch it as a normal new horror film :)) IMRAN Has a very short role .. 3.5/5 ..
Rahul Alia ‏@rahul_emmyalia
#RaazReboot Outstnding Horror Thriller! & Don't listen to critics! Movie is too gud! @emraanhashmi suprb performance! Loved it! Must watch!
RR ‏@Thefinisher15
#RaazReboot good first half Emraan comes 25 mins before interval not just before interval #RaazReboot @emraanhashmi not playing cameo Sometimes quality is better than quantity Solid 1st half waiting for 2nd half Overall after watching #raazreboot I will say dis film is better than vikram previous films go 4 it guys emraan has done outstanding acting #RaazReboot is a blockbuster material for those who don't watch English horror films or any other language horror films
RJ Harshil ‏@RjHarshil
#RaazReboot was little scary with few scenes seems like franchise has lost the charm. Now watching #Pink seems engaging.
Gautam ‏@GautamDRoCkStar
She absoloutely nailed what a wonderful perfomance by @kriti_official on her debut. loved the flim #RaazReboot . wish u great success. guys go and watch #RaazReboot . it's an amazing treat for all emraan fans. thanks @emraanhashmi
Saira @sairaluvemraan
Wow #RaazReboot is wonderful movie your dialogue,action everything is bestest n priceless @emraanhashmi Best of Luck❤❤
E & S AdhuriKahani ‏@srushtik
Throughly enjoyed #RaazReboot loved the twisted "Raaz" . And of course loved your part the most @emraanhashmi World Scariest Day