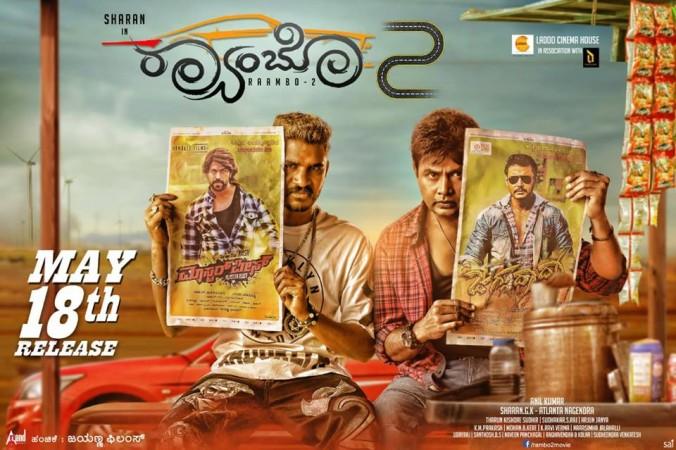 After working in 99 movies, Sharan turned hero with Rambo way back in 2012. His first movie was received well by the audience and he has not looked back ever since. After a gap of six years, a sequel is being made for the flick with a different team.
Comedy has been Sharan's forte and one cannot imagine him without fun elements deeply being rooted in the movies that he acts. Raambo 2 is an out-and-out comedy flick with a regular dose of action and masala elements. However, the film has no link with Rambo except for the title.
The team has tried to cash in on the brand value of the 2012 Rambo, which was a comedy thriller. The latest movie is a road flick, and a major part of the story happens about a journey.
The man, with an intention of adding excitement to his life, goes on a road trip. A series of incidents and how they impact him form the crux of the story.
Raambo 2 is written and directed by Anil Kumar. Aashika Ranganath plays the female lead, while Chikanna enacts an important role. The Kannada film has Sudhakar Raj's cinematography and KM Prakash's editing. Arjun Janya has composed the music and a few tracks, including 'Belebelege dumapana nadu rathri madhyapana' have struck the chord with the viewers.
Reviews:
The morning shows have just started and we will bring updates as and when the tweets are out online:
Priyanka: #Raambo2 A much-needed entertainer to break away from Political Entertainment which we are seeing on television. A neatly told story with multiple messages. @sharanhruday
cineloka.co.in: #Raambo2 Interval. Good so far.
Post Chikkanna Entry it is a complete laugh riot.
BGM is refreshing.
#Raambo2 is a well made comedy Thriller. The Suprise element was too good.
The Comedy sequences btwn Sharan, Chikkanna and Sadhu
Arjun Janya' songs and BGM are major plus.
Overall worth watching.
Rating - 3.75/5
Shashiprasad S M: #Rambo A sensible chase with some fun and @sharanhruday 's typical dance
#Rambo2 #interval The chase starts now‏