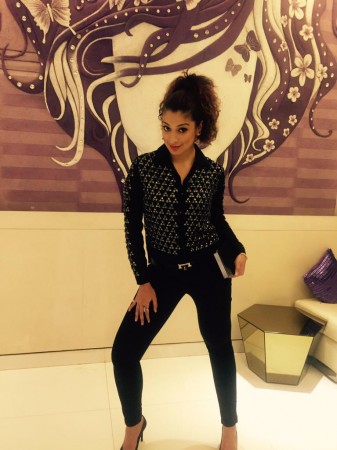 Actress Raai Laxmi (Lakshmi Rai) is fast recovering from an injury that she suffered while performing a dangerous stunt on a TV show. She has thanked her fans for their prayers.
On 29 April, Laxmi took to her Twitter handle to keep her fans updated about her health conditions and thank them for their wishes. The actress tweeted, "I am feeling much better guys nothing to worry getting bk to work from today as I can't sit quiet in 1 place thanks fr ur wishes luvlies Thanks ! ur wishes n prayers helped me in recovering soon ☺️❤️lots of love to all "
Raai Laxmi had hurt her leg and hand. The actress had confirmed the news to a leading newspaper. "It's a reality show and many stars perform some breathtaking stunts. As I am trained in gymnastics, I was performing a stunt where I had to escape from fire," Laxmi said, The Times of India reports.
The actress said that she is not bothered about the injuries. "But unfortunately, I jumped on an iron rod, and injured my leg. In fact, one of my hands got twisted, and now I am bedridden for the past two days. I hope I get well soon. As I like to take up challenges, I am not worried about the injury much," Raao Laxmi added.
Laxmi was last seen in Tamil film "Aranmanai", which released in theatres on 19 September, 2014. She has three Malayalam ("Preview", "Arabian Safari" and "Santhoshayi Gopiyetta"), three Tamil ("Oru Ticketla Rendu Cinema", "Sowkarpettai", "Bangalore Days" remake) and a Kannada film ("Shrungara") in her kitty. She is currently busy with the shooting of "Sowkarpettai".