India off-spinner R Ashwin stunned Twitterati on Tuesday, February 19, when he came up with a what netizens thought was a harsh reply to South African star Herschelle Gibbs, who teased him about his athleticism.
It all started when Ashwin came up with a Tweet promoting a new shoe from a popular footwear company on Tuesday afternoon. The 31-year-old called the new model "the best running shoes I've stepped into, can't wait to flaunt them".
Gibbs, who had represented South Africa in 90 Tests, 248 ODIs and 23 T20Is between 1996 and 2010, pulled Ashwin's leg by saying that he hoped the new shoes would help the Tamil Nadu cricketer run faster.
Ashwin then conceded he was not as fast as Gibbs, but that he "was blessed with a wonderfully ethical mind not to fix games which put food" on his plate. He later deleted this tweet.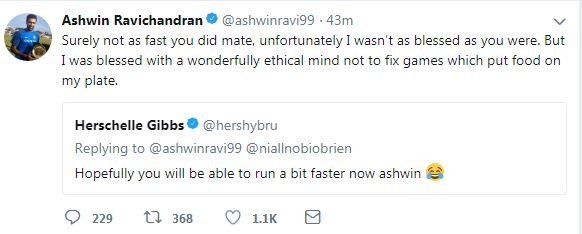 What's sensitive to me isn't to someone else, and what's sensitive to you isn't to me. I want to respect my family of fans and hence pulled the tweet down, and now entertainment over for all my haters. See you later?

— Ashwin Ravichandran (@ashwinravi99) February 19, 2018
Twitterati hit out at Ashwin, saying he had gotten "personal" over a jocular comment from Gibbs. Even as his fans called the reply "harsh", the former South Africa batsman himself said he was moving on as he felt the off-spinners was not able to "take a joke".
Notably, Gibbs had reportedly admitted to his involvement in the match-fixing saga of 2000, which shook the cricket world.
The big-hitting former South Africa batsmen conceded before Kings Commission of Inquiry, constituted in South Africa to probe the scandal, that he was offered money by late South African cricketer Hansie Cronje for performing poorly during their tour to India in 2000.
Meanwhile, Ashwin replied to Gibbs' comment once again, saying his comment was also made in jest. The Tamil Nadu cricketer added he wanted to respect his "family of fans" and thus removed the original Tweet.
Check out the Twitter thread and some of the fans' reaction here:
Hey Guys! Just got my hands on the new NIKE React. It's got a stunning design and the foam technology used makes it light and comfortable to use. Undoubtedly, the best running shoes I've stepped into, can't wait to flaunt them.
#NikeReact #InstantGo #teamNike pic.twitter.com/SmspLkw2dA

— Ashwin Ravichandran (@ashwinravi99) February 19, 2018
Can't take a joke i see? anyway moving swiftly on..

— Herschelle Gibbs (@hershybru) February 19, 2018
I totally believed my reply was a joke too, but look how people and yourself perceived it. I am totally game for this sort of fun mate, we shall dine over this sometime.? https://t.co/Z7YdXQnxeD

— Ashwin Ravichandran (@ashwinravi99) February 19, 2018
There's a difference between a joke and personal attack. Gibbs' tweet was fun but Ashwin made it personal.

— Tejan Shrivastava (@BeingTeJan) February 19, 2018
Overkill. That's like nuking a country in the response of a security drill.

— SAGAR (@sagarcasm) February 19, 2018
Not cool Ash.... Should have avoided this... No need to be so rude...

— Sumit Sundriyal ?? (@SumitSun14) February 19, 2018
Awkward silence after reading this tweet.

— desiAuthor ?? (@DesiAuthor) February 19, 2018
Too harsh man.. too harsh..

— Naveen (@TheNaveenReddy) February 19, 2018
The second sentence was very very rude.. But if you still wanted to give him back, you could have told "had these shoes been in your playing days you would have the right balance on your feet to not 'drop the world cup'.. Just saying ??

— Sudarshan Sridhar (@sdn4thapril) February 19, 2018