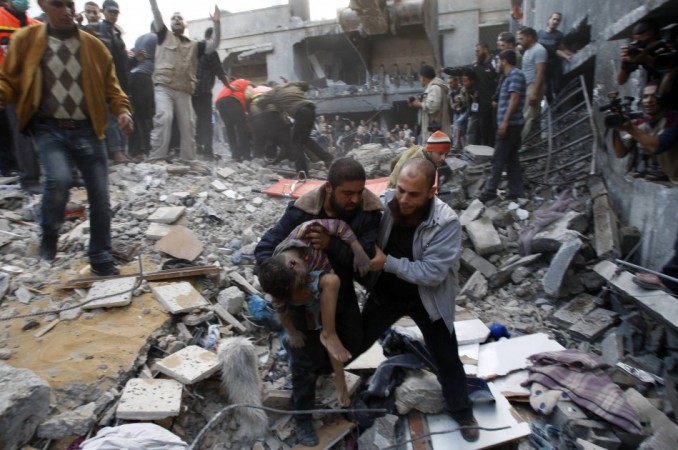 Letting up their offensive for a brief period, Israel and Palestine's militant group Hamas have agreed to a 12-hour truce called by the United Nations, starting Saturday morning.
Israel's military said it would hold fire starting at 8 am (0500 GMT) but would continue searching for tunnels used by militants. A spokesman for Hamas said all Palestinian factions would abide by the brief truce, Reuters reported.
The truce, termed as a "humanitarian pause" comes after 19 days of bloodbath in the Gaza Strip that runs only 40 kilometers long, and the death toll in Palestine touched 865, comprising mostly civilians and one-third children.
29 nations of the United Nations Human Rights Council pushed for an international probe into Israel's violations of humanitarian laws earlier this week.
As the two sides are expected to follow the truce for the next 12 hours, here's a look at what leaders, humanitarians, civilians have said:
"I call upon the armies of the Arabs and the Muslims to stand up for the victims and to seek revenge for the actions of the Israelis, who are killing innocent children in cold blood," a Muslim preacher said at the main mosque of the West bank city of Qalandia on Friday, The Washington Post reported.
"Kill me, cut me into pieces, drown me in blood, you will never live in my land, you will never live in my sky!" The New York Times quoted an imam at Qalandia's mosque.
"This use of human shields (by Hamas) is extraordinarily cynical, grotesque and inhuman," IBTimes UK TV quoted Israeli Prime Minister Benjamin Netanyahu. "But what is equally grotesque is that Israel was condemned in the (UN) Human Rights Council, it's a travesty of justice, travesty of fairness, a travesty of common sense and a travesty of truth. It will not prevent us from continuing to act to defend our people, to protect them from rocket attacks and to dismantle the vast terror network that we have seen."
"All of us sat in one place (in the school courtyard) when suddenly four shells landed on our heads. Bodies were on the ground (there was) blood and screams. My son is dead and all my relatives are wounded, including my other kids" Laila Al-Shinbari, a survivor of Friday's shelling by Israel on a UN-run school on Friday where Palestinians where taking shelter, told Reuters.
"It's clear that civilians are paying an unimaginable price caught between both sides," spokesman of U.N. Relief and Works Agency (UNRWA) Chris Gunness told Reuters
"There seems to be a strong possibility that international law has been violated, in a manner that could amount to war crimes," The Guardian quoted Navi Pillay, the UN high commissioner for human rights.
"The whole world is watching tragic moment after tragic moment unfold and wondering when everyone is going to come to their senses," US Secretary of State John Kerry said at a press conference on Friday when a truce had not still not been reached, The Guardian reported.
"As a father, I cannot imagine the indescribable pain that the parents of these teenage boys are experiencing," The Wall Street Journal quoted US President Barack Obama as saying in relation to the killings of three Israel teens in June that is said to have triggered Israel's crackdown on Palestine.