Passengers of SpiceJet flight SG-658 from Kolkata to Bengaluru were in for a hilarious treat when their pilot decides to do an open mike session on board. Many felt that he should try his hands at stand-up comedy as well.
The said pilot had everyone laughing from the word go as he welcomed passengers with the quip, "Our company is not doing well now, and so thank you all for flying with us."

Needless to say, this unusual humor let man-a-passengers in splits. The pilot was not done yet.
During the flight, the air hostesses were handing out advertisement flyers of a Matrimonial company (interesting marketing?) to the passengers. As soon as the flyer distribution was over, the pilot (over the PA system) remarked "find a happy marriage", this soon followed by a hilarious, "happy marriages are a myth".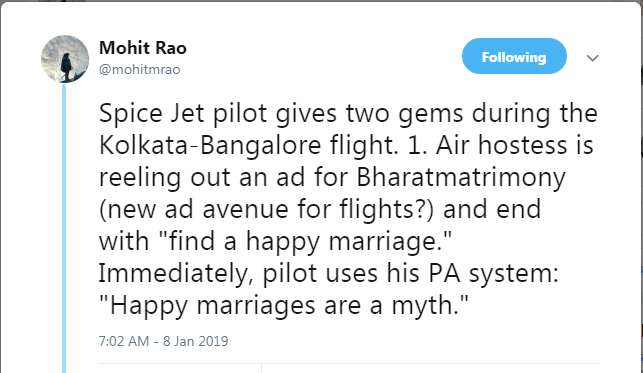 The genius pilot, whose name we tried very hard to find, ended his 2 hours 20-minute flight saying, "On your left, you'll find a gorgeous view of the international airport. It is complimentary for now before they find a way to charge you for this too."
A passenger, Mohit Rao, was kind enough to tweet about this, drawing laughs from many who replied to tweet.



One of the replies came from a lady who flew on a flight from Bengaluru to Mumbai commandeered by the very same pilot and he did not disappoint on that trip either.
On that occasion, after landing in Mumbai, he sent off the passengers with a rather funny warning, "be patient with baggage and exit, defaulting passengers will be kidnapped and taken back to Bengaluru."
We thank the pilot for making us laugh and the passengers too. What if all airline pilots had such a sense of humor? Flying would be such fun! And yes, let us just hope the said pilot is really serving his notice period, well, it'd be a pity if such a humorist loses his job. SpiceJet, be good to him.