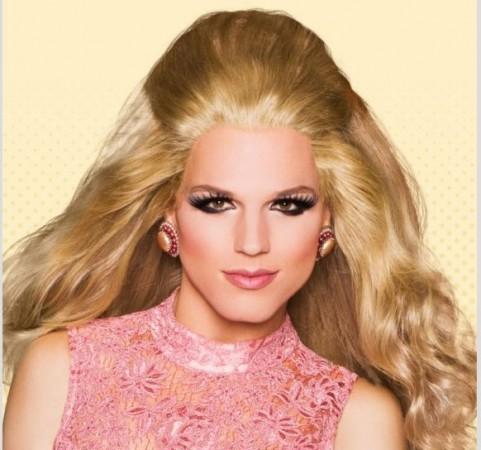 Derrick Barry was one of the most popular queens to walk the stage of "RuPaul's Drag Race" Season 8. Best known as a Brittney Spears impersonator, Derrick was eliminated in episode 8, "RuPaul Book Ball," but went home as an international superstar.
International Business Times, India, got a chance to speak with Derrick as part of the weekly "Queen that Sashayed Away" segment. Here are the edited transcripts of the interview:
International Business Times: How would you describe your journey of "RuPaul's Drag Race?"
Derrick Barry: My journey showed an actual journey and that is what I wanted people to see. I came in as one thing and left completely different. I'm satisfied with my time on the show and that is real life. If I had excelled at everything I wouldn't have learned, and there were times I needed to believe in myself more.
IBT: What is the most important lesson you learned on the show?
Barry: Critiques are not always bad. Constructive criticism is only there to help you evolve into a better performer or artiste. I wish I handn't taken everything so literally or gotten my feelings hurt from judges or the other girls.
IBT: Which was your favourite challenge from Season 8?
Barry: Snatch Game was so much fun! It's the one I was most excited for and the one everyone wants to stick around for. I love improv and comedy, and it was so exciting to have an unscripted moment with no rules. You can steal moments when other people are bombing, too.
IBT: Which of your runway looks are you proudest of?
Barry: I love the kimono because Nick [San Pedro] painted it for me. I felt proud that I had a hand made one; even though there were three other kimonos, they were nothing like mine. It was exciting to wear a walking piece of art.
IBT: Among your co-contestants, whose drag do you admire the most?
Barry: I love Kim Chi's drag. It's just so elaborate and big. But I see things in all of the girls that could make them the winner.
Also Read: 'Devious Maids' Season 4 cast shares photos from set
IBT: Despite your disagreements, Naomi tried her best to be of assistance to you when you were drawing out your eyebrows. How is the relationship between you guys now?
Barry: Oh it's great, and we got to watch the show together last night in Chicago. We knew there were things we both said that were too far or unjust, but there is so much to learn from. And she did help me. I didn't want her to draw them on me because I needed to do things myself, but now I'm happy to have her do my make-up! She's a fantastic artist.
IBT: You and Bob were the winners of last episode's challenge. How did it feel to be pitted against him in the lip-sync battle?
Barry: I would rather be sent home from him than anyone else. Because we had such a strong storyline together through the season it just made sense — obviously winning a challenge to lip-syncing against one another wasn't how I wanted it to work out, but we were a great team no matter what.
Also Read: Rare, adorable photos of 'Magic Mike' star Channing Tatum with wife Jenna Dewan
IBT: One of the biggest criticisms you received from the judges was that your make-up, despite its aesthetic appeal, lacks the flavour of drag. Have you tried to make your make-up more "drag-ey?"
Barry: Oh, completely, and I am loving wearing bottom lashes, blocking my brow, fuller lips, all things I was scared of doing because I thought it would take away from the realism of celebrity female impersonation. But it's actually made my looks so much stronger, since I have to get away from looking like a man the older I'm getting. The power of make-up is unbelievable.
IBT: What is the one thing you want "Drag Race" fans to remember about you?
Barry: Umm, that I can do more than Britney! I think I proved that on the show. I would love for people to watch the season and see I could have gone with Britney impersonations and that I was trying to get away from my comfort zone. I want people to remember me for my journey of finding my drag self.
IBT: What is next for Derrick Barry?
Barry: I'm promoting my single right now, which is on iTunes. I would like to release an EP by end of summer and an album by end of year. I'm also travelling a ton for different drag bookings.
Barry's single "Boom Boom (Ft. Chris Cox)" will be released on May 6 via iTunes.