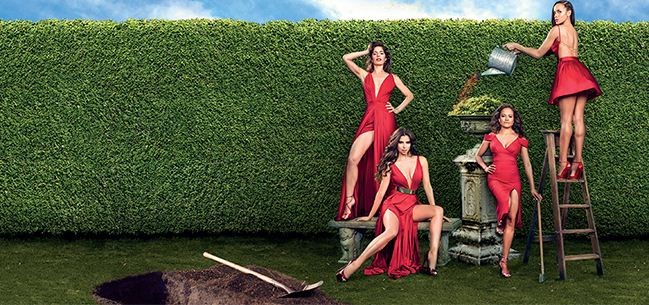 The long, torturous wait for "Devious Maids" is almost over, and the show is returning to Lifetime on Monday, June 6. Adrian's (Tom Irwin) fate following his mansion's explosion remains a mystery, but there are many interesting developments for all our favourite maids in the upcoming season.
The season will have only 10 episodes, unlike its predecessors, but the showrunners will apparently make up for that by bringing in producer Eva Longoria in a guest role. She will be playing herself, while James Denton has been hired to play Peter, a charming and confident movie studio executive who falls head-over-heels in love with a prominent character.
Out best guess is Marisol (Ana Ortiz) will be the character he falls for. According to the official synopsis for the season, she will fall in love with someone new, but it will become a complicated love triangle when her old flame Jesse (Nathan Owens) shows up.
Marisol is also expected to be a huge support system for Evelyn (Rebecca Wisocky), who is going through some major life changes. One can't help but wonder what these changes are, considering her husband was last seen inside a mansion that was exploding. Irwin, who plays Adrian, is still in the main cast of the show, so it is safe to assume Adrian survived the accident.
Meanwhile, Taylor (Brianna Brown), Michael (Brett Cullen) and Sebastien (Gilles Marini) were not so lucky and have been dropped from their series-regular status.
As you wait for the premiere of "Devious Maids" Season 4 episode 1 titled "Once More Unto the Bleach", check out these set photos shared by the stars of the show:
Oh oh... What's happening here??? #deviousmaids4 #carmenluna pic.twitter.com/G8sEgEcF54

— Roselyn Sanchez (@Roselyn_Sanchez) April 19, 2016
Good times #DeviousMaids set with our beloved director @UglyVictor @TheRealAnaOrtiz @itisIjudyreyes @DaniaJRamirez pic.twitter.com/FrMXOUG0rP — Roselyn Sanchez (@Roselyn_Sanchez) April 15, 2016
Welcome to #DeviousMaids S4 sweet @SBlakemoreActor Start preparing your crush now #DeviousArmy pic.twitter.com/bTxUJ5jo3s

— Rebecca Wisocky (@rebeccawisocky) March 3, 2016
Devious Maids - Season 4 - On Set Photo #DeviousMaids https://t.co/9V2WCMSoJj pic.twitter.com/RjrLwMmt8j — Devious Maids (@DeviousMaidsNet) April 14, 2016