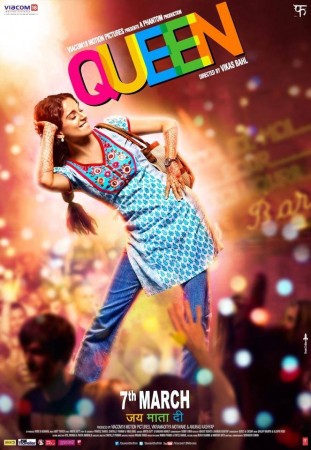 Kangana Ranaut starrer "Queen" has received rave reviews from critics. The film that will hit screens on 7 March also features Lisa Haydon and Rajkummar Rao in lead roles.
Directed by Vikas Bahl, the film tells the story of a small town Punjabi girl who goes on her honeymoon alone.
"Queen" has mostly received four out of five stars from commentators. Critics in their review have said that this is Ranaut's best performance ever. Bahl has also received positive response from critics for direction.
Check out the reviews here:
Taran Adarsh of Bollywood Hungama said: "QUEEN starts off as yet another attempt to encapsulate the middle class Punjabi set-up [based in New Delhi yet again!], replete with resplendent song-and-dance spectacle prior to the wedding, but quickly changes lanes as Rani sets out for Paris. Steering away from the conservative route of the woman wallowing in self-pity, Vikas Bahl tells Rani's story with insight and understanding and along with his team of writers [screenplay: Parveez Shaikh, Chaitally Parmar, Vikas Bahl] injects loads of optimism, besides spirited and lively episodes, to portray Rani's emotional rollercoaster journey.
"Having said that, QUEEN isn't fool-proof either. The bloated run time -- almost 2.30 hours -- acts as a roadblock. Also, the story stagnates in the second half. Besides, there are too many songs, especially in the first hour.
"On the whole, QUEEN reinvents the genre with its non-formulaic screenplay and skilled direction. A charming little film, this one's made with heart and feeling and it shows. Absolutely recommended!"
Mohar Basu of Koimoi.com said: "Have you ever watched a film that has you smile all through its run time, even when a silent tear drops down your face? Queen does that for me. Vikas Bahl eloquently traps the gradual transformation of Rani's middle class terminology into a self assured laconic 'thank you'. It could have been very forgettable and limp but Kangana's poise pulls through the film marvellously. Queen is a winner and does it all in a regal style almost to give most film lovers a cinematic orgasm of sorts. Savor this one!
"Queen' is easily one of the most accomplished films made in a long time. The skillful direction of Vikas and Kangana's easy virtuoso makes this one an indulgent affair. For the constant smile that it left on my face, the hiccups were all forgettable."
Gayatri Jayaraman of India Today said: "The delightful film tells a simple story: that of a young Indian girl from Rajouri Garden in New Delhi, dumped by her fiance, played by Rajkumar Yadav, two days before her wedding, who chooses to go on the prebooked honeymoon to France and Amsterdam on her own anyway.
"And that is the film's beauty: its pauses, its silences, its not saying too much when it can say less. Rani, angry, hurt, almost running away from this mess, has a mental process which she is allowed the dignity of.
"From the languid shoulder-dropping shuffle to the confident canter of a woman set free, a woman happy in herself, Queen is a journey of self transformation every woman, dumped at the altar or not, must take."
Subhash K Jha in his review said: "Its thematic elegance and narrative wisdom surpasses anything that you might have come to expect from the frothy ebullient trailers.
Frothy and ebullient, Queen certainly is. But it's a lot more. At the end you are left so close to the characters and their life-defining milieu that the late Bobby Singh's camera lenses dissolve and merge into the very fabric of the narrative.
"Here is that rare director who knows how to articulate his characters' feelings through the spaces that they occupy.Kangna's face and body-language do the rest. She lives through every moment of Rani's journey from a Delhi middleclass' cocooned existence to a girl making her way through the dark sinister alleys of Paris and strippers' joints of Amsterdam in a voyage of self-realization that makes Sridevi's journey in English Vinglish look like a pre-paid vacation.
"If you miss Queen you may never get a chance to know how Rani journeyed into self-actualization. And that would be your loss entirely."
Prateek Sur of Bollywoodlife.com said: "The movie starts with the adrenaline pumping track London thumakda and it sets up your mood for the rest of the film. The film although doesn't linger at all on wayward tracks of romance or tragedy and moves right to the topic of the film.
"Vikas has through this movie tried to pass on a message to all the Indian women. He shows no matter how bad things are for a woman, she can always emerge victorious from the turmoil. Maybe she might do it in her own specific way and also do it in her own demanding terms, but she has the full capability to stand back and fight the world.
"It is impossible to not fall in love with Kangana's performance as this is possibly her best performance till date. You would be glued to your seats till the last credits roll out, which by the way have been done in The Hangover style. You will get to see the parts you missed in the film by means of photographs and video snippets at the very end. In simple terms, Kangana's acting prowess has proved that she is a 'Queen forever'!"