Al-Ousboue, a Moroccan newspaper, has claimed that Britain's Queen Elizabeth II is a direct descendant of the founder of Islam, Prophet Muhammad. The newspaper traced back 43 generations of the Queen's family tree to assert the claim.
This is not a new finding as Burke's Peerage, a British authority on royal pedigrees, had originally shared the study in 1986. But it has resurfaced after the newspaper traced back 43 generations.
According to the newspaper, Queen's bloodline runs through the "Earl of Cambridge in the 14th century, across medieval Muslim Spain, to Fatima, the Prophet's daughter."

Ali Gomaa, the former grand mufti of Egypt, had verified the genealogical records of early-medieval Spain.
"A person, hailing from the House of Hashem [the Prophet's family] was arrested in Britain where he was coerced into converting to Christianity. It was said he was the grandfather of Queen Elizabeth," Gomaa said.
"Mixed in with Queen Elizabeth's blue blood is the blood of the prophet Mohammad (PBUH), according to Burke's Peerage, the genealogical guide to royalty," United Press International (UPI) reported then.
"It is little known by the British people that the blood of Mohammed flows in the veins of the queen. However, all Moslem religious leaders are proud of this fact," Burke's publishing director had said in a letter to the then prime minister Margaret Thatcher in 1986.
"The royal family's direct descent from the prophet Mohammed cannot be relied upon to protect the royal family forever from Moslem terrorists," he added.
A 2008 study by Burke's Peerage had also said that Queen is a descendant of a Muslim princess called Zaida, who fled from her hometown of Seville in the 11th century, converted to Christianity and changed her name to Isabella.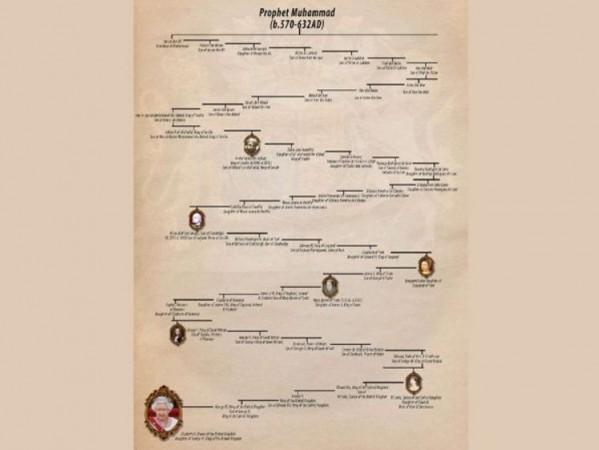 Zaida was the fourth wife of King Al-Mu'tamid ibn Abbad of Seville and their son Sancho's descendant married the Earl of Cambridge. However, historians do not agree with Zaida's origin. Some claim that she is the daughter of Muatamid bin Abbad, a wine-drinking caliph descended from the Prophet, while other say she married into his family, The Economist reported.
There have been mixed reactions to the reports of Queen's links to the founder of Islam with some welcoming the news, while some have warned saying that it is a plot to revive the British empire with Muslims help.
"It builds a bridge between our two religions and kingdoms," said Abdelhamid Al-Aouni, who wrote the article in Al-Ousboue.
"This is just propaganda used by the British monarchy to appease the growing number of Muslim subjects," one Reddit user said while rubbishing the reports.