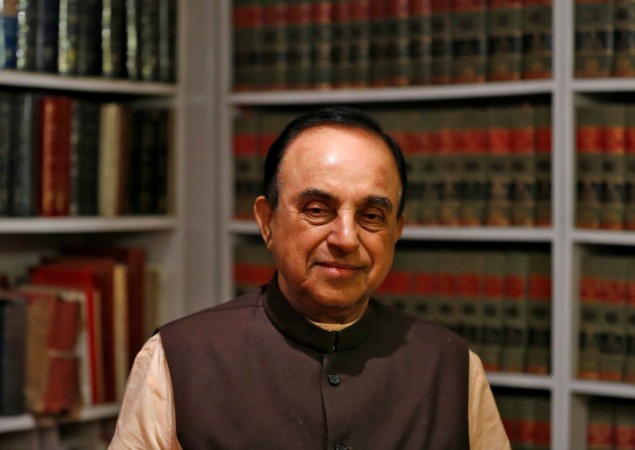 BJP leader and Rajya Sabha member Subramanian Swamy alleged that the Modi government pressurising senior government officials from the Central Statistical Organisation (CSO) to release data that shows demonetisation had no adverse impact on the economy and the GDP numbers.
"Please do not go by the quarterly (GDP) data; they are all bogus. Recently, I went there with (Union) minister Sadananda Gowda.... He called the CSO person, because there was pressure to put out data on demonetisation. So they put out the (GDP) data (saying) that there is no impact (of demonetisation)," Swamy said while speaking at a gathering in Ahmedabad, reported the Indian Express.
Swamy stated that he questioned the director of CSO as he was aware of the impact of government's note ban exercise of November 2016.
On November 8 last year, Prime Minister Narendra Modi announced that Rs 1,000 and Rs 500 notes would be no longer a legal tender from November 9. That time, this two currency notes accounted for over 86 percent of the currency in the system.
Swamy said he asked the director of CSO, "...how did you estimate the GDP for this quarter when the demonetisation was on November (2016) and you gave a printed economic survey report on February 1 (2017), which means it went for printing at least three weeks before. So on the first week of January, you submit a report and you calculate GDP to show no impact. How did you calculate it?"
To which the CSO director said, "What will I do? I was under pressure to give the data and so I gave it," claim Swamy.
Last month, to mark November 8 as Anti-Black Money Day, finance minister Arun Jaitley said that that the note ban exercise that was undertaken a year ago would be remembered as a 'watershed moment' in the history of the Indian economy.
He dismissed all apprehensions of the negative impact of demonetisation on the economy and further claimed that demonetisation helped in reducing stone pelting incidents in Kashmir and curbing Naxal activities as the 'miscreants have run out of cash'.
The latest data by CSO released on November 30 stated shows improvement in GDP growth at 6.3 percent for the July-September quarter, which plummeted to three-year low at 5.7 per cent.
Swamy further said not to go by the foreign rating agences. "Don't believe in these Moody's and Fitches. You can pay them money and get any report published. We have got CSO... So rely on them. Our agency can, but does not push them to do something that they can't do."