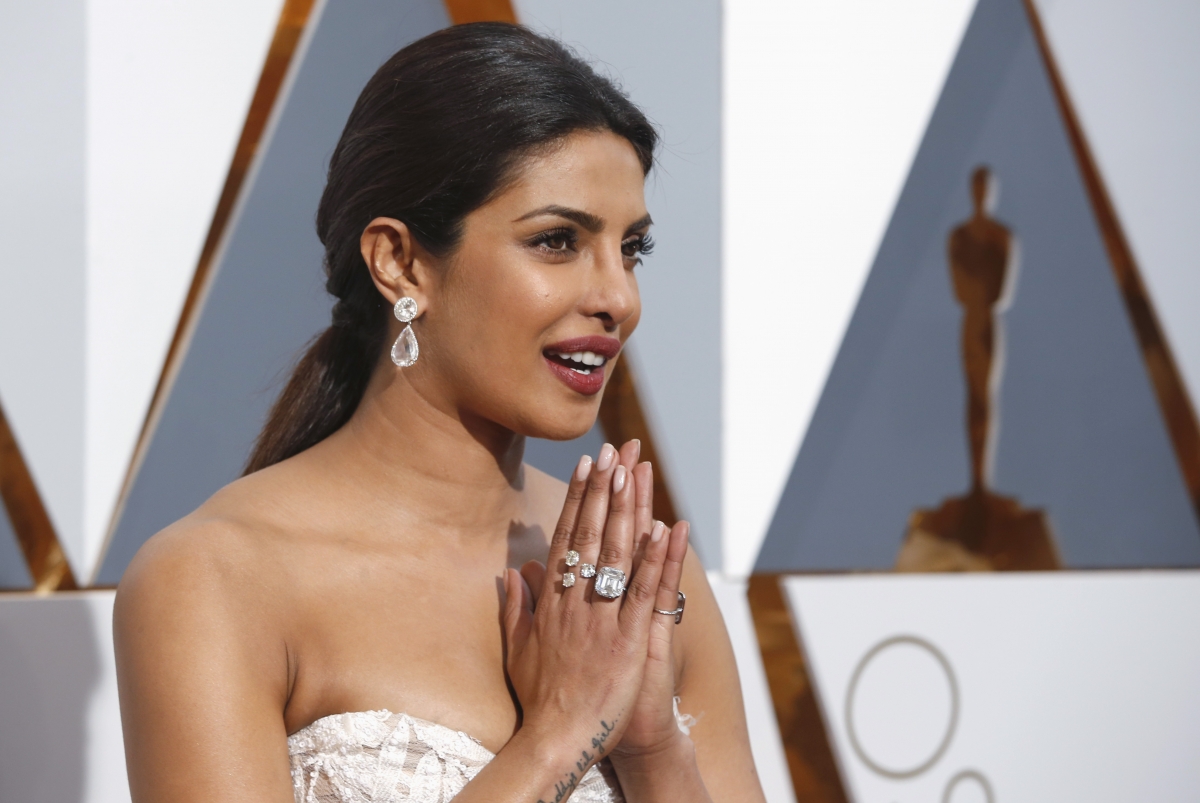 Quantico star Priyanka Chopra has apologised to everyone a week after her cover photo from a magazine went viral for all the wrong reasons. Priyanka shot for a cover photo of the India edition of Conde Nast Traveller magazine wearing a white T-shirt, which had Refugee, Immigrant and Outsider words struck through.
Though Priyanka looked smoking hot in that white T-shirt with wet hair, not everyone appreciated the cover photo. She was slammed on social media for the offensive message and was accused of being insensitive towards refugees and migrants. However, the former Miss World has now apologised and said that the message was aimed at addressing racism. Chopra, who also made it in Time Magazine's 100 Most Influential people list, said that the message has been misunderstood.
"They (Condé Nast) specially got this (t-shirt) made and implored me to wear it. They said they were addressing xenophobia which is a big issue that is happening," the 34-year-old actor told NDTV in an interview.
"So their idea was that. And I bought into it, I guess. And I am really, really apologetic about the fact that sentiments were hurt ... The point the magazine wanted to make was actually something good."
On October 11, the magazine issued a statement clarifying their stand, as to why they came up with such a photo shoot. The magazine in a statement said that the labelling of people is creating a "culture of xenophobia."
Read the complete statement below:
At Condé Nast Traveller, we believe that the opening up of borders and the breaking down of walls can help us discover the world, and open up our minds and hearts. So, when we had actor Priyanka Chopra wear a T-shirt we created on the cover of the 6th-anniversary issue, we had a point to make.

It's about how our labelling of people as immigrants, refugees and outsiders is creating a culture of xenophobia. We are allowing thousands of innocent people who are forced to cross borders due to unimaginable terror and atrocities to be treated without humanity and empathy. It's about how we are allowing some powerful leaders to build barriers that make it more difficult for bright, motivated and hardworking people to see more of the world, learn from it and make it better for us all.

It's time we demand better, and stand against the building of walls, literal and otherwise. We must demand a world free of racism and bigotry and prejudice, so that we – and generations after us –may enjoy all the abundance that travel offers, the beauty of the world that is open and rich and diverse in its people and cultures and geographies. And we must, in the midst of our many differences, find and celebrate our commonalities, our oneness. We must recognise that we are all on a journey. Whether we are moving across oceans or just a few kilometres, or in our mind's eye, into a completely different world, whether we are doing so due to free will or circumstance – we are all travellers.

And this is why Priyanka Chopra – a star at home and abroad, who has experienced firsthand the opportunities that travel offers – is the perfect ambassador. It's not about her being a refugee or immigrant or outsider; it's about her, like us, recognising the power of travel, and joining us in asking everyone to do better for each other.
Related
Deepika Padukone on her accent in XXX: The Return of Xander Cage; is it a dig at Priyanka Chopra?
Travel magazine clarifies why Priyanka Chopra wore a 'controversial' T-shirt for the cover page