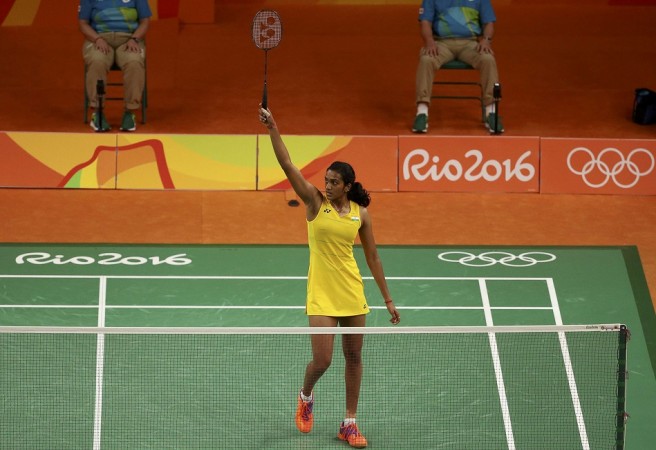 PV Sindhu played some amazing badminton to clinch her first Super Series title on Sunday. She defeated Sun Yu in a three-game affair 21-11, 17-21, 21-11. Right from the outset, she looked detrmined, and continued her stunning display over three games to win the prestigious title.
PV SINDHU CLINCHES CHINA OPEN 2016 WOMEN'S SIngles TITLE
1:35: Match point for Sindhu as she hits it right on the line over Sun. With a shot to the left of Sun, Sindhu has managed to win her first Super Series title. Stunning display from Sindhu to clinch the title.
1:33: With Sindhu playing sharp shots, Sun has not been able to trouble Sindhu, who leads 19-10. She is just two points away from the title.
1:32: Sun finally earns a point after a flat hit, just over the net. 10-16.
1:30: Sindhu opens up a six-point lead at 15-9. Sindhu needs to be composed, and not think too ahead.
1:28: Error of judgement from Sindhu, who lets the shuttle drop, but it is in. Sindhu drops it beautifully, to earn the next point. Sindhu leads 14-9 after another easy point.
1:27: Sun misses an easy chance to score after opening up Sindhu. Sindhu leads 12-8.
1:26: Sun is not giving up so easily. She hits a good smash at Sindhu's feet to pick up a point. Sindhu, next, hits it long to make it 8-10. Sindhu forces Sun to hit it wide, and helps her earn a point and again open 3-point lead. 11-8.
1:24: Two back-to-back points for Sindhu to lead 8-6. Sindhu has looked in good control at the net to help her open 3-point lead. 9-6. She increases that to four points as Sun Yu looks rattled, somewhat. Sindhu leads 10-6
1:22: Sindhu has regained the lead at 6-5, but I tell you, this Chinese girl has got huge confidence to drill those shots from the baseline, makes it 6-6.
1:20: Sun is going full tilt. Hits a body smash to take 4-3 lead. Sindhu makes it 4-4 as she places the shuttle, closer to the net. My God, Sun Yu is looking in great shape now. She floors the player with a smash to earn the next point. Sun leads 5-4.
1:18: Sindhu hits two of his shots long to allow Sun come back into the clash. 3-3.
1:16: That is power for you from Sindhu as she drills a powerful smash to Sun's left. Sindhu earns another point. 3-1.
1:15: Sun Yu has got her mojo back, strikes a clean smash to take 1-0 lead, but misses the next shot completely. 1-1.
THOSE IN ATM queues (in India), hope you are enjoying the live coverage. See, you are not bored. I will keep you entertained as the third game is set to get underway.
1:11: It is one game all, as the final heads to a decider. Sun clinches the second game 21-17.
1:09: The match has tilted towards Sun Yu, who is making it count. The Chinese leads 19-16, and she is just one point away from clinching the second game after a superb deep shot. She misses a chance to win it, hits the smash into the net. Sun leads 20-17.
1: 08: This game is going down to the wire. 16-16. Powerful body smash from Sun, and Sindhu does not connect well. Sun leads 17-16.
1:05: Shift of momentum as Sindhu hits a half-hearted smash into the net. Five straight points for Sun, who leads 15-14. Another smash at the net from Sindhu, who trails 14-16. This is six-straight points now for Sun.
1:04: Is Sun Getting her game right? Could be, and needs to if she wants to take the match to decider. She trails by one point, and hits a great shot to level the score. 14-14.
1:03: The home crowd wants Sun to shine, and are cheering her on. Sindhu has a 4-point lead. 14-10, and decreases it to 3-point with a solid offensive shot. She has cut Sindhu's lead to 2-point with a drop shot. Sindhu still leads 14-12.
1:01: Sindhu is very alert and looking to hit the shuttle early. That is great thinking from the Indian. Smash down the line from Sun Yu and it is long. Sindhu leads 13-9.
12:59: Two back-to-back points for Sun Yu, who used her defensive skills to counter Sinhu and her smash to earn a point. Sindhu leads 11-9.
12:57: Sindhu seems to be in full control, and has run into a 4-point lead. 11-7. Though Sun Yu has been better in the second game, she has not been able to deliver her A game yet.
12:54: Well taken from Sun Yu, but it has been called as a fault. Did she take it early??? 'BOOS' emerge from the crowd. Sindhu leads 9-7.
12:53: The crowd are slowly making some noise, and Sindhu makes an error in her serve.
12:52: Sindhu is forcing Sun Yu into making errors. To be fair, Sun Yu has not been good in this match. But she has somehow manged to make it 6-6. Playing much better in the second game.
12:49: The home crowd has gone silent. PV Sindhu to blame as she has outplayed Sun Yu so far. This is half the battle won. Sun Yu hits it wide to trail 3-5.
12:47: Lady luck for Sun Yu. The shuttle hits the cord and drops unluckily for Sindhu. 2-2. Sindhu follows that with an amzing smash...THAT JUMP FROM SINDHU..., leads 3-2. Guess she should represent India in high jump!!!!!
12:45: Short play from Sindhu, and Sun Yu drills the smash to earn the first point of the second game. Sun Yu leads 1-0, but Sindhu strikes back to make it 1-1.
12:43: SINDHU WINS FIRST GAME 21-11. It was complete domination from the Rio silver medallist.
12:42: Sindhu is destroying Sun Yu, who has not been able to understand what has hit her. Remember, the Chinese came into this final without dropping a single game. Sindhu wins the first game with a shot at the body. 21-11.
12:40: Sindhu opens a 10-point lead at 17-7, but Sun pushes her opponent at the back and plays a deft shot at the net, next. With Sun Yu making errors, Sindhu is gearing close to winning the first game. 18-8.
12:39: Body smash and Sun Yu is helpless. Sindhu is looking confident with every shot. This is amazing from the India star. She hits another cross-court shot to make it 16-7.
12:37: Sun Yu has been making too much errors and Sinhu is making it count with her all-round play. Powerful return of serve from Sindhu, who drills a powerful smash to increase her lead to 13-7.
12:34: Sindhu has looked bright so far, and Sun Yu has not been able to get her game right. Sindhu leads 11-5.
12:32: First real point from Sindhu, who fires a good smash, and Sun Yu is caught napping. Sun Yu strikes back with a calculated shot down the line to make it 4-9. Sindhu increases the lead to 10-4 with a quick reflex shot.
12:30: Sun Yu goes for a powerful smash, and hits it wide. Sindhu plays a lovely drop shot to surprise Sun Yu, who is in the backfoot. Sindhu leads 7-2.
12:28: Sindhu has increased her lead to 5-1, but she has not done much. It has all been from Sun Yu's errors.
12:27: Both players have started with some errors as Sindhu makes a mistake at the net, but wins the next point to take 3-1 lead.
12:26: An unforced error from Sun Yu, and Sindhu takes lead, 1-0. Sun Yu fires it long, Sindhu 2-0. Good start.
So here go.....the wait is over....
12:24: Sindhu and Sun Yu are in the middle, practising.
12:20: Prize distribution ceremony over, and we are just minutes away from the women's final. For all those standing in ATM queues (in India) due to demonetisation, follow this blog, and time will just fly.
12:12: South Korean pair CHANG Ye Na and LEE So Hee win their first Super Series title in the women's doubles competition.
12:06 pm: Some amazing plays in the women's doubles final. These rallies, I tell you, is from another planet. Rallies after rallies.... I' loving it.....Hope Sindhu also enetertains the same way. The final should end in the next 5-10 mins.
11:54: Sindhu has always been a brilliant player, and read this to know abour her future plans. Another brilliant read: Sindhu must be ready to take India baton from Saina Nehwal.
11:40: The women's doubles final has gone into the deciding game, which means Sindhu's match has been delayed. We are past the scheduled time of 11:30 pm start, and the singles final could start in the next 30-40 minutes.
11:30: For those, who does not know Sun Yu much and wants to know about her. Here is a look at the finals of the Singapore Open Super Series final. Now, tell me what you think about her playing style...You can tweet me here @ashim_sport, and you can follow me as well. Oh, did I just ask you all to follow me in a polite manner?
11:20: Coming to PV Sindhu, she has to be tight on her defence, and not give much chance to Sun Yu, who is a top-class player. Of late, one has seen that Sindhu does not mind coming to the net and use her deft touches as well, and secure a point with a drilling smash.
11:04: Even if you do not like doubles competition, you must be enjoying the ongoing women's doubles match. What rallies, what fast hands....
10:55: Sindhu has never won a Super Series title so far in her career. This may come as a surprise for many, who have been following her after her Rio success.
Can she win her maiden Super Series title on Sunday? Yes, yes, she can. Why not? Come on, when on song, she can make big players look foolish.
10:45: PV Sindhu's final is slated to be played after the ongoing women's doubles final. For all the passionate Sindhu fans, here is a look at Sindhu in the final of Rio Olympics.
10:40 am IST: Hello everyone. Welcome to International Business Times India's live blog coverage. This is Ashim Sunam, and I will provide you with all the thrills and spills from the China Open 2016 final, featuring PV Sindhu and Sun Yu in women's singles.
Are you ready? We are just around an hour away from the epic final.