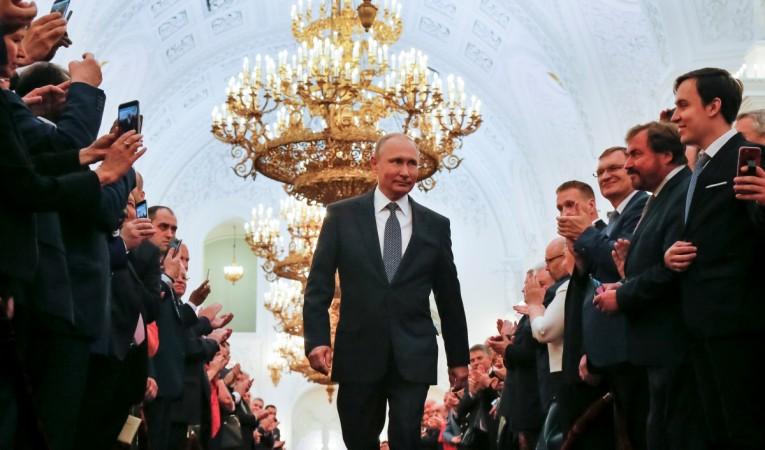 Russian President Vladimir Putin has inaugurated a highly-controversial bridge linking the Russian mainland to Crimea, tightening Russias hold over the contested peninsula which Moscow annexed from Ukraine in 2014.
The 19-km, $3.7 billion bridge is Moscow's only direct road link to Crimea. Russia expects it will carry millions of cars and rail travelers and millions of tonnes of cargo each year. Previously, all car traffic passed over the Kerch strait by ferry or by passing through Ukraine, the Guardian reported.
On Tuesday, Putin drove an orange Kamaz truck across the bridge as he opened the road to car traffic. "In different historical epochs, even under the tsar priests, people dreamed of building this bridge," Putin told workers at the ceremony.
"Then they returned to this (idea) in the 1930s, the 40s, the 50s. And finally, thanks to your work and your talent, the miracle has happened."
The Russian state media touted the bridge as the "construction of the century". The Soviet Union and Nazi Germany had considered and then scrapped plans to build a bridge over the Kerch Strait.
Relations between Russia and Ukraine remain extremely fraught as a simmering conflict continues between Kiev and Moscow-backed separatists in Ukraine's southeast.
In 2016, the US imposed sanctions on Russian companies that were helping to build the bridge across the Kerch Strait. Ukraine said the construction of the bridge showed "blatant disregard for international law".
The US State Department said that "the bridge impeded ship navigation and goods delivery in the area and therefore it was watching the situation closely".
The Russian embassy, however, said that "the US remarks were predictable and Moscow was not asking anyone's authorization for building infrastructure projects on its territory.
"As one could predict, Washington is not happy with that. But Crimea is Russia," the Russian embassy said in a statement.
"We shall not ask for anybody's permission to build transport infrastructure for the sake of the population of Russian regions."
The bridge's construction was led by Stroygazmontazh, whose owner, Arkady Rotenberg, has close connections to the Kremlin. Rotenberg was Putin's judo sparring partner.
He was hit with sanctions by the US for his proximity to Putin and by the EU for being among those accused of undermining Ukraine's territorial integrity.
The bridge was completed six months ahead of schedule, according to Russian state news agencies. It can reportedly carry up to 40,000 cars per day, its span is greater than that of the Vasco da Gama bridge in Portugal, previously the longest in Europe.