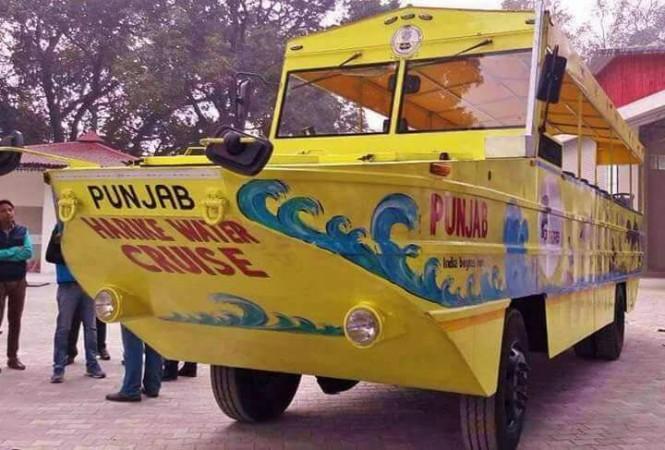 Punjab Deputy Chief Minister Sukhbir Singh Badal on Monday fulfilled a long-standing dream of his, when the state introduced water bus — amphibious vehicles that can run on both water and land — to ply on select routes. Punjab's tourism department is advertising this as the Harike Water Cruise, and the ruling Shiromani Akali Dal (SAD) may use it as a poll issue in the upcoming Punjab Assembly elections.
The vehicles are expected to be of immense help in a state that is dotted by rivers, streams and other water bodies, and actually derives its name from a local word that translates to "land of five rivers." They will ply primarily on the Harike wetlands, as part of a project that had been expected to begin as early as May this year.
A pet project of Deputy Chief Minister Sukhbir Singh Badal, the water bus project has been allocated Rs 10 crore, Punjab Heritage and Tourism Promotion Board CEO Navjot Pal Singh Randhawa told International Business Times, India. This includes building and maintaining rafts, landing points and other infrastructure pertaining to the water bus.
According to official sources, the bus was launched by Badal on Monday, following trial runs in the days leading up to it. Following its launch, Badal said his dream had become reality. He also reminisced of how his political rivals had initially promulgated the idea of an amphibious vehicle like the water bus in Punjab.
About the bus and its itinerary
Randhawa told IBTimes India that only one bus — based on demand — is currently operational on the route, part of which is road and the other part a waterway. "The bus has a seating capacity of 34 people, including the driver, and is equipped with life-jackets for everyone," he said.
The current route of the bus includes a 13-km ride from Amritsar to the Harike wetlands, which the bus is expected to traverse over 45 minutes. It will then traverse 4km on water. The fare for each trip from Amritsar will be Rs 2,000. Those who want a trip of just the Harike wetlands will be charged Rs 800.