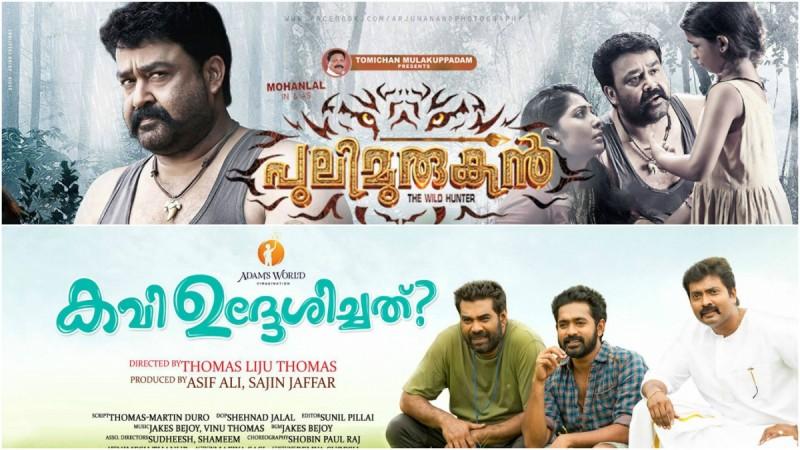 Puja releases Mohanlal's Pulimurugan, Mammootty's Thoppil Joppan and Asif Ali, Biju Menon and Narain-starrer Kavi Uddheshichathu..? have been garnering good responses from the audience. Many celebrities have also been showering good words on the movies, which have been running successfully in Kerala.
Pulimurugan
The Mohanlal-starrer, directed by Vysakh and produced by Tomichan Mulakupaadam, is set to become one of the highest grossing movies of the year. The action thriller, in which Mohanlal plays the role of a wild hunter and lorry driver Murugan, has been tagged as a thrilling movie of the superstar, filled with many graphics and action sequences.
Also read: Pulimurugan outdoes Thoppil Joppan in 6 days at Kochi multiplexes
Actor-turned-filmmaker Vineeth Sreenivasan, who enjoyed watching the massive Mohanlal-starrer, has shared his views on the Vysakh directorial. "Pulimurugan is massive!! Phenomenal effort from Vyshakh ettan and team.. Mohanlal is a magician.. Hard work is evident in every frame.. I have not enjoyed an action film this much in a long time!!!! [sic]," Vineeth, who was last in Jude Anthony Joseph's Oru Muthassi Gada, posted on his Facebook page.
Meanwhile, actor Rony David Raj has also lauded the superstar for taking huge risks in performing the action sequences in Pulimurugan. He has also praised the team of the action thriller, including its director, cinematographer, editor, music composer and the choreographer. "Plenty to learn from legends. Mohan lal sir ...respect ...The amount of risks he has taken is so huge. U can see it in the action sequences ....Congrats dir vysaketan ... Dop shajietan...Editor john kutty. Music by gopi sundar. Action choreography at its best by peter hein. Congrats to the whole team ......Muruka muruka ... puli muruka.... [sic]," Rony, who is awaiting the release of Ganesh Raj's directorial venture Aanandam, posted on his social media page.
-
-
-
Kavi Uddheshichathu..?
The family entertainer, produced by Asif Ali, under the banner of Adam's World of Imagination, has also been getting good reviews from audience and celebs, despite being a low budget movie compared to Pulimurugan. The multi-starrer, helmed by Liju Thomas, narrates the incidents in the backdrop of a fictitious village where people are crazy about volleyball.
Salil Sankaran
Kollywood has made gems like Gilli, Vennila Kabadi Kuzhu, Chennai-28 etc which were lauded by Malayali audience. However, Mollywood doesn't have many sports dramas to boast about. Thomas-Liju Thomas have stepped into this space with their debut movie Kavi Uddheshichathu..?. KU is not the normal fast-paced, high-adrenaline sports drama which we are used to. It takes its time to introduce and establish the generations of Allimoola, a fictitious village in North Kerala. This is much required to establish the village's craze about the game volleyball, and betting around it. Things get interesting when a small bet between Jimmy and Bosco, played by Asif and Narein, leads to many other gambles, involving almost all the lives around them. Then comes the coach Minnal Saimon (Biju Menon) whose lone interest is to extract money from the game fanatics, may it be the team he is connected with or their opponents. From a slow starting friendship story, the movie shifts track so swiftly to a dramatic village sports event, that too in such pleasant way that we find ourselves sucked into a fulfilling watching experience. Watch it, the movie surely strikes some nostalgic chords and triumphs the long lost glory of Village Volleyball.
Congrats Liju Thomas, Asif Ali, Sajin Jaffar, Narein, Biju Menon, Shehnad Jalal, Saiju Govinda Kurup, Dinesh Prabhakar, Balu Varghese, Biju Kuttan, Abhishek Raveendran, Bijith Dharmadam, Nimesh Tanur, Sudhhy Kopa and the whole Team Kavi.
Vivek Ranjit
A simple, funny tale of an entire village consumed by a betting addiction. Asif Ali continuing his great form after Anuraga Karikkin Vellam with Biju Menon in his element yet again providing plenty of laughs, Lena, Balu, Saiju Govinda Kurup, Alexander Prasanth, Manoj Guinness, Bindu Panicker, Ganapathi, Dinesh Prabhakar and most of the cast have done very well. Liju Thomas has smartly included the most riveting portion from his acclaimed short film Ramaniyechiyude Namathil in his debut movie as well. Shehnad Jalal's camerawork, Nimesh Tanur's art direction, Sunil S Pillai's editing and Jakes Bejoy's music add to the total flavour. Good job guys. And cheers to the guts of Asif & Sajin Jaffar to release this movie in between the biggies. And the good part is that it's receiving encouraging responses in spite of tough competition.