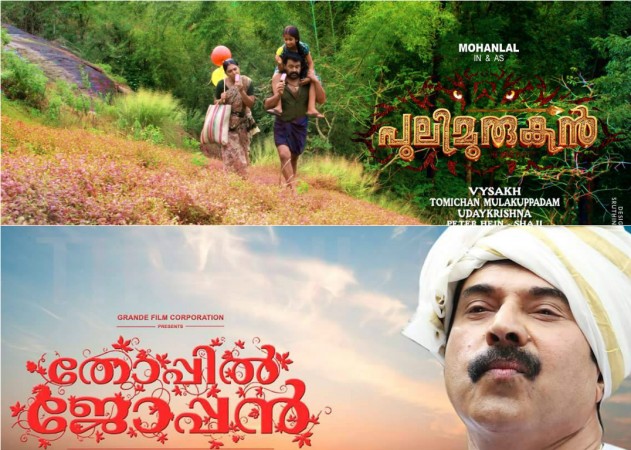 Mollywood superstar Mohanlal's Pulimurugan has been making tremendous progress in its business even after six days of theatrical run at the multiplexes in Kochi, Kerala. The action thriller has been performing well than Mammootty's family comedy entertainer Thoppil Joppan released on the same day.
The six day total gross collection of the Mohanlal-starrer at the Kochi multiplexes is said to be Rs 87.95 lakh with an earning of Rs 15 lakh on the sixth day alone after enjoying 98.93% theatre occupancy and 32 housefull shows.
Also read: Mohanlal's Pulimurugan and Mammootty's Thoppil Joppan end first week on high note
According to trade analysts, the movie has so far crossed 50 housefull shows out of 51 shows in PVR, while 34 consecutive shows which were screened were packed audience in Cinemax. It is also reportedly the fastest Malayalam movie to have 50,000 viewers at the multiplexes with 6-day average theatre occupancy of 99.25%.
Looking at the trend in collection, Pulimurugan is expected to become the fastest movie to enter the Rs 1 crore club at the multiplexes breaking the record of Dulquer Salmaan's Charlie, which achieved the feat within nine days. The long Puja holidays have also helped the Vysakh directorial to rake in good business in less than a week of its release.
Meanwhile, Mammootty's Thoppil Joppan has also been opened to positive response from the audience, who tag it as the comeback project of the megastar after the flop movie White. It is said to have earned a gross collection of Rs 46.61 lakh within six days at the multiplexes in Kochi alone. However, if the figures are to be believed, the Johny Antony directorial has only witnessed 67.56% theatre occupancy on sixth day when it collected Rs 6.62 lakh from the multiplexes.
Here is the detailed 6th day collection of Pulimurugan at Kochi multiplexes:
| | | | | |
| --- | --- | --- | --- | --- |
| Venue | Total shows | Total collection | Percentage | Housefull shows |
| PVR Cinemas | 10 | 4,48,535 | 99.93% | 8 |
| Cinepolis | 9 | 3,23,143 | 99.25% | 6 |
| Cinemax | 5 | 1,21,455 | 100% | 5 |
| Pan Cinemas | 5 | 1,29,857 | 100% | 5 |
| Q Cinemas | 7 | 3,03,730 | 99.61% | 5 |
| Cinepolis VIP | 9 | 1,73,355 | 89.19% | 3 |
| Total | 45 | 15,00,075 | 98.93% | 32 |
Here is the detailed 6th day collection of Thoppil Joppan at Kochi multiplexes:
| | | | | |
| --- | --- | --- | --- | --- |
| Venue | Total shows | Total collection | Percentage | Housefull shows |
| PVR Cinemas | 6 | 2,60,315 | 82.69% | 0 |
| Cinepolis | 5 | 1,31,568 | 61.19% | 0 |
| Cinemax | 5 | 91,959 | 68.465% | 0 |
| Pan Cinemas | 3 | 42,051 | 62.53% | 0 |
| Q Cinemas | 5 | 86,600 | 52.34% | 0 |
| Cinepolis VIP | 4 | 51,051 | 60.13% | 0 |
| Total | 28 | 6,63,544 | 67.59% | 0 |
Figure credit: Forum Keralam