The audio of "Puli" was released on Sunday, 2 August. The music of the Vijay, Shruti Haasan, Sudeep and Hansika Motwani starrer movie is composed by Devi Sri Prasad.
See 'Puli' Audio Release Photos
"Puli" album has six tracks, for which Vijay, Shruti Haasan, Javeed Ali, Pooja AV, Shankar Mahadevan, MM Manasi, Sooraj Santhosh, MLR Karthikeyan, Anitha Mano, Priyadarshini and Tipu have lent their voices and Vairamuthu has penned the songs.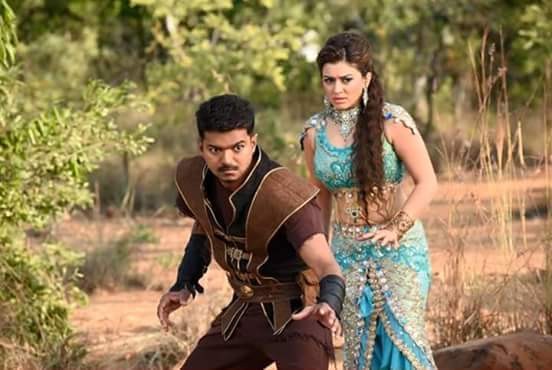 The album has turned out to be an average outing by Devi Sri Prasad. While the music composer has retained the usual energy levels in the songs, the album lacks freshness and variety. Especially after the success of Anirudh Ravichander composed "Kaththi", expectations were high from this album. However, the songs might make a difference when seen with visuals. Even critics have said the same.
Pick of the Album: "Yendi Yendi", "Jingiliya" & "Sottavaala". "Yendi Yendi", "Jingiliya" & "Sottavaala".
Average Ratings Given by Critics: 2.5
Read what critics are saying about "Puli" music album.
Sify Reviews: On the whole, 'Puli' has an extremely likeable melody in 'Yendi Yendi' while tracks like "Jingiliya" & "Sottavaala" are peppy outings. The remaining tracks pass muster as they depend heavily on Vijay and the visuals to pull them off now. For a canvas as big as Puli, the audio could have been much better. One hopes the audio sounds better along with the visuals. Read full review...
Behindwoods Reviews: "Puli"'s music will need the grand visuals as it is programmed keeping in mind whats going to come onscreen. Read full review...
Moviecrow Reviews: DSP has churned out alarmingly run-of-the-mill tracks for a project of such magnitude. In a time where the music scene in Tamil cinema is seeing revolutionary efforts, DSP's work is steps backwards. Read full review...
Indiaglitz Reviews: The album in all is racy but only in parts. The energy, which is typical of DSP seems to have dipped in his snoopiness for choice of instruments, orchestrina of genres and classic melodies. However, most part of the album sounds just for situational numbers. Let's catch the complete action on screen. Read full review...
Studioflicks Reviews: Usual energetic numbers from DSP which offers nothing new. Read full review...