PUBG Mobile players have another reason to be excited about the game as we've just received confirmation on the arrival of the next major update. PUBG Mobile 0.10 update is arriving sooner than anticipated and brings aboard some of the most exciting features and upgrades, including the much-awaited snow map.
PUBG revealed the first look of its latest map called Vikendi, which brings snow effect to the game to PC Live Server on December 19 and to PS4 and Xbox One in January. But what about mobile, where PUBG has received maximum recognition and rewards? Well, players needn't wait for long for this update.
PUBG Mobile 0.10 update will be available for download at 0:00 UTC on 20 December 2018. This means, players in India will be able to get the latest update starting 5:30 a.m. on the same day. PUBG Mobile also confirmed to us that matchmaking in the latest update will be available 24 hours later.
With less than two weeks to go for the PUBG Mobile 0.10 update to finally arrive, we'd like to take you through everything that's new in the update. The biggest and the most exciting addition is the new snow weather mode and Vikendi snow map. This winter is about to get icier.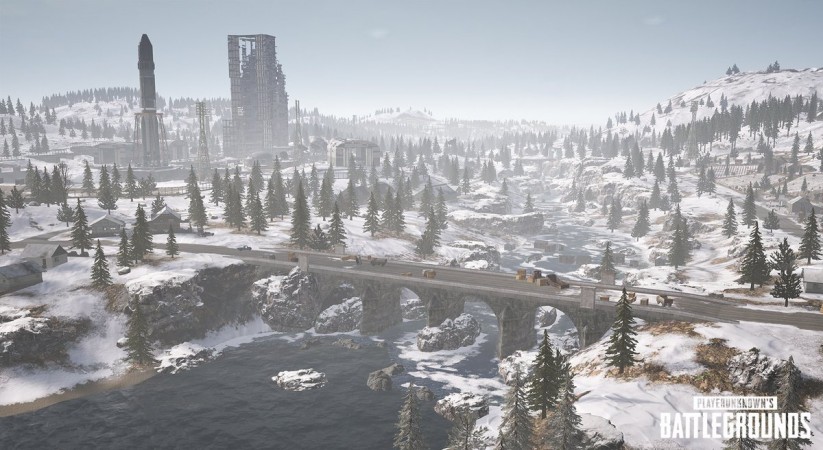 Vikendi map is a 6km x 6km snow map, which is slightly bigger than Sanhok map but smaller than Erangel and Miramar. If the trailer is any indication, it's best to bring out those white outfits to serve as camouflage in the snow-dominating map. Surely, the Ghillie suit isn't going to be helpful here.
PUBG Mobile 0.10 update's changelog is quite extensive. Players get to indulge in a snowball fight in Vikendi map instead of throwing apples in the spawn island. The game has finally become a lot user-friendly for those with large hands as a new layout is available in the latest update.
In addition, the game also has some stern rules in place. If you're repeatedly exiting matches right after starting, you'll be banned from finding matches for a period of time. The changelog we received, however, doesn't say how long. Another interesting addition is that spectators can report suspicious behavior of opponent players in the game.
Introducing Vikendi: A brand new map wreathed in snow. Winter has come to #PUBG and you'll need to adapt if you want to survive.

Play Vikendi starting tonight on PC Test Server! Launches on PC Live Server Dec. 19 and in January for PlayStation 4 and Xbox One. pic.twitter.com/gUzZQgJ2WI

— PUBG (@PUBG) December 7, 2018
Take a look at PUBG Mobile 0.10 update's complete changelog below:
New weather mode added: Snow
Vikendi-exclusive vehicle: Snowmobile
Snowball Fight added to Vikendi's Spawn Island
Added layout for players with large hands
Added a display for Crew Challenge winners on Erangel's Spawn Island. Season 1's winning teams will appear on the Spawn Island of their respective server and modes (Season 2 registration starts at 0:00 UTC on 18 DEC 2018)
Players' best results in Crew Challenge will now be shown on their Crew pages and can be shared with other players
Thematic Changes:
Added a Snow theme to the main menu. Collect bells from all Classic mode matches and exchange them for rewards at the event center
Shop's front page has been tuned to emphasize themes of each major update
Matchmaking Changes:
Added cross-server matchmaking. After enabling, players have a chance to be matched to players of the same tier on other servers.
Players that repeatedly exiting matches right after starting will now be banned from finding matches for a period of time.
Security Improvements:
Players may now report suspicious behavior while spectating after dying.
Reward Improvements:
Players now can collect all daily mission awards at once.
Added Firearms Finish Upgrade System, where players can use materials at the Lab to upgrade certain weapon finishes to get additional kill effects, unique kill broadcasts, and death crate appearances.
Added Lucky Treasure, a feature that gives players a chance to get upgradable weapon finish Glacier - M416 when they finish daily missions.
Added Season spending rewards. Spend different amounts to get excellent rewards and steep discounts on firearm finishes
Other Improvements
Added Arabic support
Players now do not need to select a second language for matchmaking and chat
Chat system now takes up less memory and stores more messages
New commands added to Quick Chat