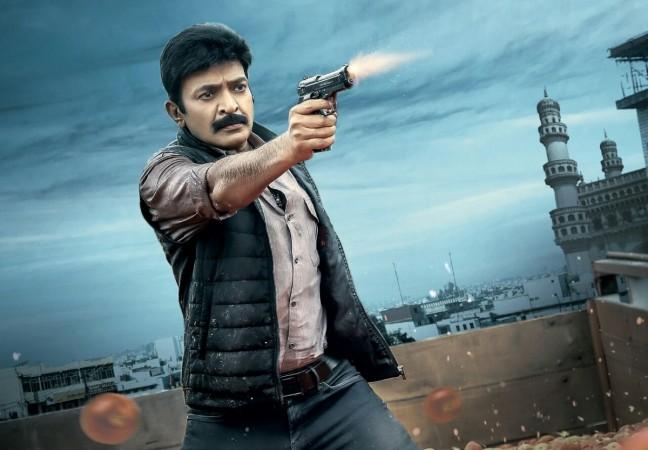 Dr Rajasekhar's PSV Garuda Vega, which has already become a hit movie, has gone to achieve another rare feat by crossing $500,000 mark at the US box office in its third weekend.
PSV Garuda Vega collected $479,755 at the US box office in two weeks. Trade experts predicted that its collection would be halted by London Babulu, Theeran Adhigaaram Ondru, Khakee and other new releases of this week. But the Praveen Sattaru-directed film remained undeterred and continued to keep the cash registers ringing at the ticket counters across North America in the third week.
PSV Garuda Vega has collected over $20,245 from 20 locations at the US box office in its third weekend, taking its total collection beyond the mark of $500,000. Its day-wise breakup is $4,745 on 3rd Friday, $9,027 on Saturday and $6,473 Sunday. The film has fared better than London Babulu, which could not even cross $10,000 at the US box office in its opening weekend.
Idlebrain Jeevi, a noted film critics and trade analyst, tweeted: "#GarudaVega joins half million dollar club in USA in 3rd weekend. From almost zero overseas market, @ActorRajasekhar has achieved this feat! Content is king in USA. @PraveenSattaru joins big league with #PSVGarudaVega. Congratulations to all "
PSV Garuda Vega 126.18M has been directed by the National award winner Praveen Sattaru, produced by JyoStar and distributed by WallPoster Cinemas. This masterpiece has stunned every critic, movie lover and trade pundit, proving that content is always the king anytime irrespective of any equation.
The makers of PSV Garuda Vega are thrilled over its wonderful collection at the box office. In a statement released to media, they said, "On this joyous occasion, we thank each and everyone behind this project, right from the technicians, actors, distributors, exhibitors and theater owners for all their help.
"Thank you one and all for trusting and encouraging a visual wonder. Mirroring high standards in movie making, this film also marks the collaboration of a passionate production with a passionate distribution house. A Million Thanks for giving us a Half Million debut venture!!" they added.