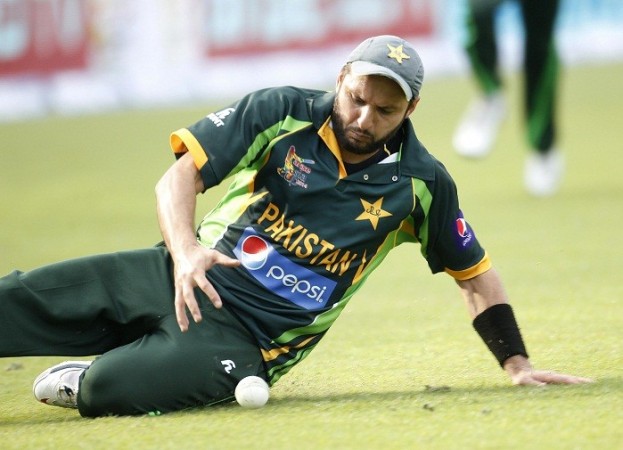 Pakistan T20I skipper Shahid Afridi feels the Pakistan Super League (PSL) has the potential to produce new cricket talents and he mentioned that the competition, which is similar to the IPL (Indian Premier League), should be played on a regular basis.
The veteran Pakistani batsman, who will lead the Pakistan T20 team in the upcoming Asia Cup 2016 as well as the ICC World T20 2016, added further that the PSL can bring out the much-needed competition among the Pakistani cricketers and that will also help in bringing consistency to the national team.
"Unfortunately our players [in the national team] lack consistency," Afridi, 35, was quoted by Press Trust of India. "I am hoping that if the Pakistan Super League is held regularly for the two to three years then new talent will emerge and also get a chance to polish itself playing in front of crowds in the PSL," he explained.
"Back home in domestic cricket no one comes to watch matches and there is no real pressure on the players to do well. To me the PSL can serve as the platform where players can develop their confidence and learn to play under pressure."
As of now, Peshawar Zalmi, Quetta Gladiators, Islamabad United and Karachi Kings remain the four teams to have qualified for the PSL playoffs, which starts on Friday.
Quite a handful of Pakistani youngsters have come from the inaugural edition of the PSL, but Pakistan coach Waqar Younis recently spoke that the PSL will have to wait to become as big as the IPL and produce players like Virat Kohli or Rohit Sharma.
"I think we shouldn't keep our expectations high from the PSL in its first year. It will take time say three to four years before we can expect this league to also give us the Virat Kohli's or Rohit Sharma's like the IPL did for India," the former bowler, who was a master of the reverse swing, said.
"But we need to be patient and give it at least three to four years before we can expect the PSL to mould our young talent into international material players," Waqar added.