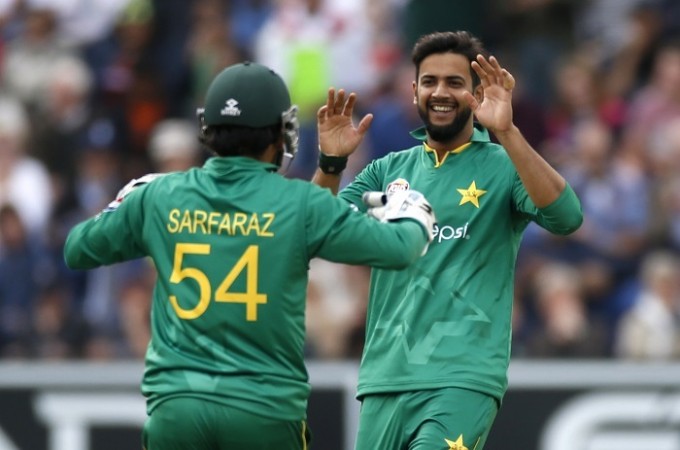 Imad Wasim was one of the best bowlers for Pakistan in the last T20 series, picking up nine wickets in three matches. The slow left-arm orthodox has his eyes on the second edition of the Pakistan Super League, though the T20 league is some months away.
It is in competitions like the PSL that Pakistan players can make a huge name for themselves, and further cement their place in the team. However, the task is not going to be easy with a number of top players from around the world set to play in the league.
Wasim will represent Karachi Kings in the PSL, and the bowler, who does not want to rest on his success against the West Indies, is confident to be a quality player for the franchise. He wants to use that brilliant performance against West Indies to help him improve further, and shine in PSL.
"The performance I gave against West Indies is now a thing of the past. As a cricketer, you have to set your next target and I am looking forward to play in the second edition of the PSL and be part of Karachi Kings. I am going to play a major role for Karachi Kings in the tournament," Gulf News quoted Wasim as saying.
"I am a positive guy whether I perform or not. My confidence is the same always as I work very hard. You will be able to see the impact of my recent performances during PSL on the field."
He is a brilliant bowler, and has it in him to trouble quality batsmen as well. Not only can he turn the ball, but he has tremendous control over his bowling, which can help him claim several wickets in the competition.
Wasim, 27, who has not played a single Test match for Pakistan, might also be able to put on the Test cap if he manages to be consistent in PSL. He has played 14 ODIs and 15 T20s for Pakistan.
"Whether it is spin or the arm ball, I had to master one so I mastered the arm ball really well. I can spin the ball but depends on what kind of situation I am bowling. Usually I bowl in the powerplay. I am really happy what I have achieved right now. My aim is represent my country as long as I want to and I want to make a name for myself and make my country proud," Wasim said.