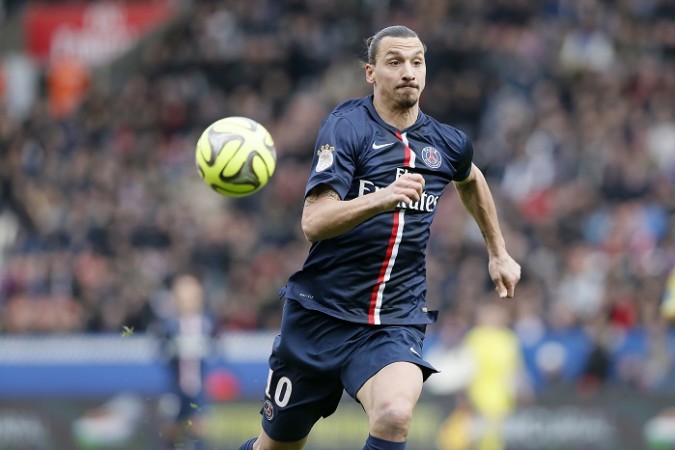 Paris Saint-Germain star Zlatan Ibrahimovic wants to carry on playing into his early forties, according to his agent.
The 33-year-old striker, who moved from AC Milan to PSG for a transfer fee of around €20 million in the summer of 2012, has only a year remaining on his current contract at the Parc des Princes.
Earlier this season the Swede had indicated that PSG would be the last club he would be playing for, but his agent Mino Raiola claims that his client will not be retiring in the near future, insisting that he still has "eight years" to play.
"He still has eight years to work," Raiola said, according to ESPN. "We struck a deal. He has worked for me for 15 years. Now, he's going to work his last eight years for me."
"That means his career could last another eight years. He's in great shape. I don't know if he's going to stay at Paris Saint-Germain for eight years, but he can play until he's 42-43 years old."
Raiola, who claims that Ibrahimovic is happy in Paris, see no reason why his client's contract at PSG be extended.
"He's happy in Paris. He tries to do his best, all the time. I think he's in top form. This year, he has had a few problems, but now, it's fine. The future, it's short."
"Every summer we see what happens. But he still has a year left on his contract come the end of the season. The club is very happy, so is he. I don't see any problem."
Although Ibrahimovic has not been able to make much impact this season due to him sustaining a heel problem, Raiola insists that the Swede is still hungry for more success.
"Zlatan has always had the same will to continue to be the best," the agent added. "Of course, he's not used to being off the pitch due to injury. But he has never told me, 'I'm sick of this, I don't want to train anymore, I don't care if I win or lose'."
"Zlatan has never told me anything like that. He still has the same motivation to win. He is still just as much a perfectionist. That's his mentality. He still has the same hunger as when I found him at Ajax. He has even improved in that respect."