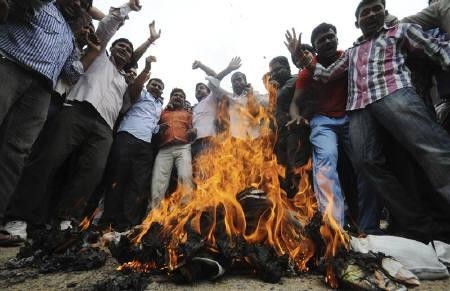 Hyderabad police on Sunday arrested several leaders of the Telangana Rashtra Samithi (TRS) party for launching a protest demanding a separate statehood.
TRS legislator K Tarakarama Rao and party workers had gathered near the Telangana Joint Action Committee (TJAC) office when they were taken into preventive custody. The TJAC had planned a 36-hour 'Samara Deeksha' at Indira Park to push the government into agreeing for the setting up of a separate Telangana state.
Authorities had refused permission for the strike and made high-security arrangements across the city to stop activists from proceeding to the protest venue. Routes toward Indira Park were barricaded and vehicle checks were made at entry-points.
Thousands of activists were arrested in different parts of the city and many leaders were reportedly placed under house arrest in the Telangana region, reported IANS.
Tensions were high on the Osmania University campus as police had to use teargas and baton charge to prevent the pro-Telangana students from carrying out a rally to Raj Bhavan over the statehood demand and the resignation of governor ESL Narasimhan for opposing it.
The gates of the university were sealed to stop the students from leaving the campus. Some students were said to have been injured in the clash with police.
If the Centre fails to come up with a decision on the matter by Monday, the TJAC is likely to announce a memorandum for the agitation, reported IBN Live.
The central government had set Jan 28 as the deadline for it to decide on the Telangana's demands. On Saturday night, senior Congress leaders held a meeting to discuss the issue but were unable to arrive at a decision.
On Wednesday, AICC General Secretary in charge of Andhra Pradesh Ghulam Nabi Azad indicated that the decision on Telangana could be delayed. "I don't think one month... (deadline should be taken so literally). When one says tomorrow, it does not mean tomorrow morning. When one says one week, sometimes it is two weeks", reported IBN Live.
Reacting sharply to the possibility of a delay, the TRS slammed the Congress for its indecisiveness and giving into political interests to keep Andhra Pradesh united. "We never believed they would honour their deadline. The government is only humiliating itself. We will intensify the agitation if this is how it continues," said KT Rama Rao.