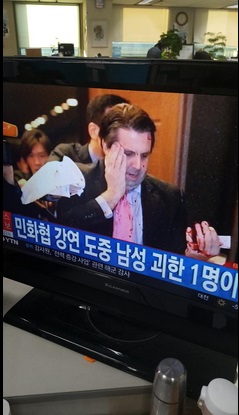 A pro-North Korea activist attacked a United States ambassador to South Korea on Thursday with a 10-inch knife in Seoul, slashing him across the face and the wrist in an apparent protest over the joint military exercises that began on Monday.
US ambassador to South Korea Mark Lippert was attacked by the assailant at about 7.40 am local time, just before he was to give a lecture at a performing arts centre in Seoul, in a first such attack on a US ambassador in the country.
The attacker has been identified as Kim Ki-jong, 55, who is known for his pro-North activities. He had carried out an attack on a Japanese ambassador in 2010 as well, according to South Korea's Yonhap News Agency.
Kim reportedly yelled "South and North Korea should be reunified" at the time of the attack.
He had written a post on Tuesday condemning the annual military exercises.
"The reason why the reunion between family members (separated by the 1950-53 Korean War) couldn't take place...If the two countries reduce the scale and period of the exercises, North Korea would respond accordingly," he had written.
Kim had reportedly visited North Korea at least six times between 2006 and 2007 and had even attempted to build a memorial for former North Korean leader Kim Jong-II in Seoul, Yonhap reported.
South Korean Prime Minister Lee Wan-koo expressed regret over the incident and the US State Department condemned the attack.
Lippert, 42, took over as ambassador in October last year and became the youngest person to hold the office. He is said to be in a stable condition after undergoing a surgery.