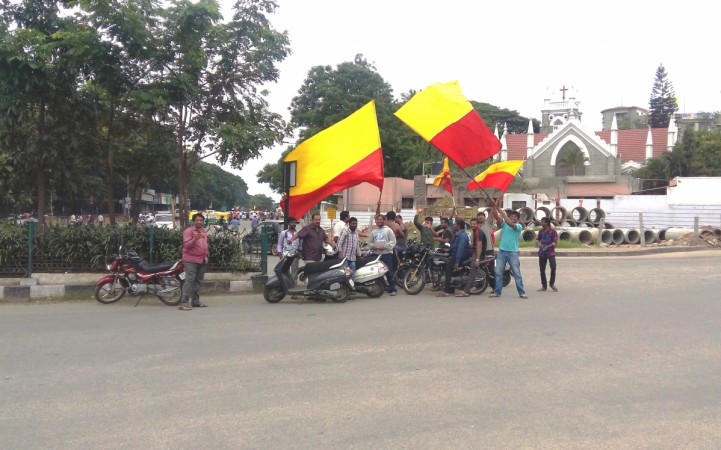 A grouping of pro-Kannada outfits have called for a 12-hour bandh, or shutdown, across Karnataka on Monday, June 12. They have said they are looking for loan waiver for farmers -- an already-burning issue in Madhya Pradesh -- and solution to the water problems in the state, including the intervention of Prime Minister Narendra Modi in one water project.
The bandh has been called by the Kannada Okoota -- an umbrella grouping of pro-Kannada bodies led by Vatal Nagaraj. A six-time MLA, Nagaraj himself is the leader of the pro-Kannada political party Karnataka Chaluvali Vatal Paksha (KCVP).
The Kannada Okoota has put forward a number of issues over which Monday's bandh has been called. While primary among them is farm loan waiver, the bigger stress has been laid on water issues. These include disputes with neighbouring states over the waters of the Cauvery and Mahadayi rivers, as well as the Mekedatu project over the Cauvery.
It is the Mahadayi project -- where Karnataka and Goa are locked in a dispute -- over which the outfits have sought personal intervention of PM Modi. The Cauvery issue has the state fighting for the waters of the river with Tamil Nadu. The Supreme Court has weighed in heavily on it from time to time, with most decisions going against Karnataka.
According to a PTI report, Nagaraj is now planning to "meet the office-bearers of Karnataka Employers Association" on Sunday to "seek their support" for the bandh. If they join hands, there is every chance that the dawn-to-dusk bandh will be a total success, even as it inconveniences many people.
Water supply to Karnataka in general and Bengaluru in particular has been a serious issue since last year, when the metropolitan city witnessed widespread violence amid demands that no more water from the Cauvery river be released to Tamil Nadu.
Water scarcity has also affected the interiors of Karnataka, with several districts considered water-stressed. There was a point in April this year when state Water Resources Minister MB Patil even suggested water-rationing and advised farmers not to use irrigation pumps!