High drama prevailed in Mandsaur and some other parts of Madhya Pradesh on Thursday, June 8 — the third day of widespread protests by farmers following the death of five of their compatriots in firing on Tuesday, June 6. The cynosure of Thursday's drama was Rahul Gandhi, and more drama may be on the way with representatives of the Aam Aadmi Party (AAP) slated to visit on Friday.
That Mandsaur would wake up to turmoil on Thursday was a foregone conclusion, given that paramilitary forces had already been deployed there from Wednesday itself. The first casualties of that turmoil were Mandsaur District Collector Swatantra Kumar Singh and Superintendent of Police OP Tripathi. Om Prakash Srivastava was appointed the new collector of Mandsaur district.
Then, Home Minister Bhupendra Singh on Thursday contradicted his statements from Tuesday when he said: "The death of the five farmers was due to police firing. It has been established in a probe." With that, Piplia Mandi Town Inspector Anil Singh Thakur was removed from field duties because the police firing took place under his jurisdiction.
The Rahul Gandhi episode
Even as all this was happening, Congress vice-president Rahul Gandhi was heading towards Mandsaur. He was travelling by motorcycle. Watch how he rode without a helmet and along with three other people, breaking several traffic laws:
Congress VP Rahul Gandhi on Bike to visit the kin of deceased farmers who were killed in police firing in Mandsaur MP, before his detention. pic.twitter.com/85XGjzstkt

— INC Mumbai (@INCMumbai) June 8, 2017
Rahul was stopped on his way to Neemuch around 1 pm. It would later emerge that he had actually been taken into protective custody. Rahul would subsequently be arrested under Section 151 of the Indian Penal Code. The local circuit house, where he was kept, was designated as a jail.
He said at that point that he would not seek bail if given the option, possibly to play up the victim card and add to his "farmer-friendly" credentials. He would meanwhile talk with the families of the five deceased farmers over the phone, as they waited outside the circuit house where he was being held.
Rahul would subsequently be released and meet the families face to face at the MP-Rajasthan border, where the police set him free. He later told reporters that the kin of the deceased wanted the farmers to be designated as martyrs and that the Congress would help them in all ways possible.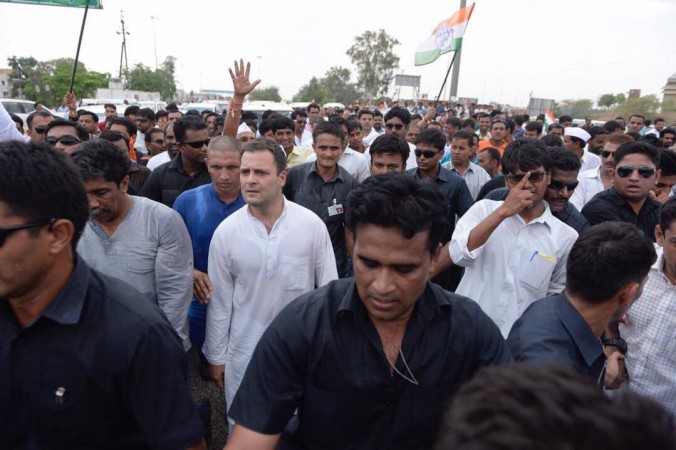 More drama ahead?
The farmer protests had turned especially ugly on Wednesday, with several vehicles torched and buildings vandalised. Thursday was somewhat more sedate, with curfew having been imposed. The curfew was relaxed for a bit in the evening but was back on at night.
Now, more drama is expected on Friday, when representatives of the AAP will try to visit Mandsaur. The Arvind Kejriwal-led party has already put out a list of demands, starting with the policemen accused in the killing of the five farmers being tried for murder. They have also demanded total loan waiver and 24-hour electricity supply to farmers for irrigation purposes.