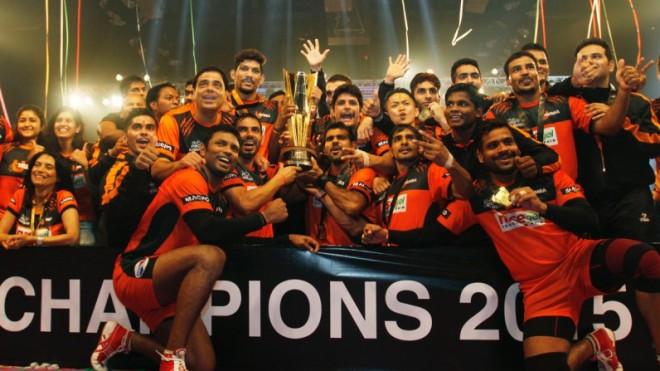 Pro Kabaddi League 2016 is the third season of the blockbuster action-packed one-of-a-kind kabaddi tournament in India, which started back in 2014. Jaipur Pink Panthers were the inaugural champions, while U Mumba were crowned winners of the second season.
CATCH THE LIVE BLOG OF THE PRO KABADDI 2016 FINAL HERE
From this year on, the tournament becomes a bi-annual tournament, and the action and drama just gets doubled for the Indian audiences as well as aficionados from around the world. A total of eight teams feature this time around as well, and following the scheduled 56 league matches, we enter the playoffs.
Sports analyst Charu Sharma, who is also one of the brainchilds of the Pro Kabaddi League, stated the third season will be grander than before.
"What a ride! In 2 short seasons, Star Sports Pro Kabaddi has achieved remarkable stature. It is the second most watched sport in the country. Kabaddi and its Kings are on the pedestal they belong. Renewed pride and effort among the youth is churning out new stars from every corner of India, Sharma was quoted by Pro Kabaddi's official site.
"Season 3 is catering for the need to have more Kabaddi through the year. Mashal Sports, AKFI and Star Sports will leave no stone unturned to unfurl another blockbuster show."
Below are the results and scores of all the matches of the Pro Kabaddi League 2016:
Match 1: Telugu Titans 25-27 U Mumba
U Mumba captain Anup Kumar and Rishank Devadiga were the star raiders for the defending champions as they just edged past Telugu Titans in the opening game of the season in Vizag.
Telugu Titans did try to bring the pressure on U Mumba after some great displays from captain Rahul Chaudhary and Sukesh Hegde, but in the end, the defending champions just eked out a victory.
Match 2: Dabang Delhi 29-35 Bengaluru Bulls
Last year's runners-up Bengaluru Bulls made a fine start to their campaign this time as well, as a complete team performance helped them take all five points on the day. From Amit Rathi to Surjeet Narwal and Deepak Dahiya, everyone performed to their best abilities to get the win.
Surjeet Singh and Kashiling Adake remained the standout players for Dabang Delhi.
Match 3: Jaipur Pink Panthers 27-18 U Mumba
The inaugural Pro Kabaddi League champions made an emphatic statement as they made the challenge of U Mumba look easy. Defender Rohit Rana and Jasvir Singh were two of the most impressive performers of the match for the Jaipur Pink Panthers.
Match 4: Telugu Titans 27-26 Puneri Paltan
After getting defeated in their first game of the season, the Telugu Titans eked out a win against a star-studded Puneri Paltan side. Everyone, from Manoj Kumar to Mehraj Sheykh and Rahul Chaudhary performed well for the home team.
The visitors, led by Manjeet Chhillar and star raider Ajay Thakur, also gave a good fight, but narrowly lost out in the end.
Match 5: Patna Pirates 29-28 Jaipur Pink Panthers
The match was the stuff of classics as a confident Jaipur Pink Panthers side, led by exceptional performances from Rajesh Narwal and Jasvir Singh, had to bow down to Patna Pirates by just a point.
Playing their maiden game of the season, Patna Pirates delivered a complete team performance with the likes of Sandeep Narwal, Pardeep Narwal, and Sunil Kumar giving some incredible displays to snatch the win for their side.
Match 6: Telugu Titans 45-34 Dabang Delhi
The hosts bagged their second win on the trot and this time, their victory was all the more comfortable. The trio of Rohit Baliyan, skipper Rahul Chaudhary, and Dharmaraj Cheralathan delivered impressive performances to increase Telugu Titans' lead at the top of the table.
For Dabang Delhi, Kashling Adake and Surjeet Singh remained the only bright stars on the day.
Match 7: Telugu Titans 17-25 Bengal Warriors
Telugu Titans suffered a shock defeat in their fourth and the last home game of Pro Kabaddi League 2016. Nitin Tomar, Mahesh Goud, skipper Nilesh Shinde, and Girish Ernak performed brilliantly to give Bengal Warriors their maiden win in the competion.
Following the match, the South Indian side still lead the league with 11 points from four games.
Match 8: Bengaluru Bulls 24-33 Patna Pirates
Bengaluru Bulls were awarded a defeat in their first home game in the Pro Kabaddi League this season by the high-flying Patna Pirates. The Patna side, who stood fourth last season, is slowly turning out to be giant killers this season, after defeating inaugural champions Jaipur Pink Panthers in their first game, and now last year's finalists Bengaluru Bulls, in their second.
Suresh Kumar, Rohit Kumar and Sandeep Narwal performed impressively for the visiting team on the day.
Match 9: Dabang Delhi 20-38 Puneri Paltan
Puneri Paltan recorded the biggest victory so far in the Pro Kabaddi League 2016 by winning their second match of the competition by 18 points. Skipper Manjeet Chhillar led from the front and the likes of Deepak Hooda as well as Surjeet Singh also gave a brave performance.
The Pune side moved to the third spot in the table after the big win.
Match 10: Bengaluru Bulls 24-34 Bengal Warriors
Bengaluru Bulls lost their second-straight home game in the Pro Kabaddi League 2016, while dark horses Bengal Warriors recorded their second win of the season. The Kolkata side have now defeated to strong South Indian sides -- Telugu Titans and Bengaluru Bulls -- by big margins, and look very threatening now.
Raider Jang Kun Lee displayed his mettle again in the game, along with skipper Nilesh Shinde, and Nitin Tomar, to record another impressive victory for their team.
Match 11: Dabang Delhi 17-30 U Mumba
Defending champions U Mumba thumped Dabang Delhi at Bengaluru after star all-rounder Rishank Devadiga gave an inspiring performance.
Apart from Devadiga, U Mumbai skipper Anup Kumar and defender Mohit Chhillar also performed well to give their side the 13-point victory.
Match 12: Bengaluru Bulls 36-26 Jaipur Pink Panthers
The Bangalore outfit finally got their first victory at home, and the team, comprising of Amit Rathi, Srikanth Tewthia, Ashish Sangwan, and Pawan Kumar, performed as a unit to earn the team's second win of the competiton this time.
Match 13: U Mumba 26-40 Patna Pirates
Defending champions U Mumba could never really have fathomed a thrashing of this intensity at the hands of Patna Pirates. Riding on some brilliant performances from Pardeep Narwal, Sandeep Narwal, and Rajesh Mondal, the Patna side made a stunning statement to record three wins from three games.
Match 14: Bengaluru Bulls 26-35 Telugu Titans
Skipper Surjeet Narwal and the rest of his teammates tried to give Bengaluru Bulls a win in their last home game this season, but the other South Indian side, inspired by an exceptional performance from skipper Rahul Chaudhary, got a thumping victory.
Telugu Titans still sit at the top of the table after this.
Match 15: Bengal Warriors 33-28 Puneri Paltan
Bengal Warriors continued their fairytale this season with another win, and this time over a star-studded Puneri Paltan side. Nitin Tomar bagged 11 raid points for the hosts in their first home game this season.
Match 16: Jaipur Pink Panthers 39-34 Dabang Delhi
The Pro Kabaddi battle between the two turned out to be a close one, but at the end, Dabang Delhi had to suffer yet another defeat this season. Rajesh Narwal, Sonu Narwal, and Samarjeet Singh performed as a while for the Jaipur Pink Panthers to give Delhi their fifth-straight defeat of the season.
Match 17: Patna Pirates 29-25 Telugu Titans
Patna Pirates are not willing to back down from the tournament by any means, and posting a plethora of emphatic wins over big teams is a testament to that. The Manpreet Singh-led side earned their fourth-straight win of the season.
Match 18: Bengal Warriors 34-17 Dabang Delhi
Bengal Warriors continued their dream run this season, and recorded the biggest win of the competition as well. It was a complete team performance by the hosts, and Nitin Tomar once again proved why he is steadily on the verge of becoming the MVP of the Pro Kabaddi League 2016.
Match 19: Bengal Warriors 31-36 Patna Pirates
Billed to be one of the most fiercely contested matches of the Pro Kabaddi this season, the two sides -- who boasted of a perfect win record this time -- met finally in the competition to see who's the better side. And the away side took all the glory at the end.
Jang Kun Lee and Nitin Tomar tried their best for the Bengal Warriors, but the Patna Pirates, inspired by brave displays from Rohi Kumar and Sandeep Narwal, got the narrow win on the day.
Match 20: U Mumba 29-28 Bengaluru Bulls
The match between the two finalists of last year, turned out to be as close as it gets. In the absence of regular skipper Anup Kumar, Rakesh Kumar took up the armband for U Mumba, and led from the front. He was assisted enormously by raiders Rishank Devadiga and Shabeer Bapu.
Bengaluru tried their best with Pawan Kumar, Amit Rathi and Preetam Chhillar, performing from the front, but in the end, they lost out by the narrowest of narrow margins.
Match 21: Bengal Warriors 34-20 Jaipur Pink Panthers
Bengal Warriors drew curtains to their home leg of the Pro Kabaddi this season rather comfortably after getting past inaugural Pro Kabaddi champions Jaipur Pink Panthers. Star raiders Jang Kun Lee and Nitin Tomar again gave a great performance on the day to take their team to the top of the table after the match.
Match 22: Puneri Paltan 30-30 Patna Pirates
With 11 raid points and three tackle points, Pardeep Narwal remained the star of the match for Patna Pirates against Puneri Paltan. Pardeep was assisted by Pirates skipper Manpreet Singh in the raiding department, but they will rue the fact that they couldn't snatch out another victory.
The home side, led by Manjeet Chhillar, saw some superb raiding from Ajay Thakur, to give the Pirates a tough fight.
Match 23: Patna Pirates 47-34 Dabang Delhi
Patna Pirates continued their stunning form this season with another emphatic win over rockbottom side Dabang Delhi. Deepak Narwal and Pardeep Narwal remained exceptional once more for the Pirates.
Match 24: Puneri Paltan 32-32 Jaipur Pink Panthers
The second draw of the season at Pune saw home team Puneri Paltan once again being held at home, this time by inaugural champions Jaipur Pink Panthers.
Match 25: Jaipur Pink Panthers 25-27 Telugu Titans
A great contest between two of the big sides in Pro Kabaddi saw the Titans get past the Pink Panthers with a narrow margin. Kuldeep Singh and Sonu Narwal from the Jaipur side brought the fight to the Telugu Titans, but ultimately, it was star all-rounder Mehraj Sheykh, who inspired the Titans to another victory.
Match 26: Puneri Paltan 27-29 U Mumba
Puneri Paltan came closing to scoring a big win over the defending champions, but the home team could not get past them. U Mumba showed all the tenacity as Rakesh Kumar and Rishank Devadiga inspired their side to eke out the narrow win.
Match 27: U Mumba 32-21 Bengal Warriors
The narrow win against Puneri Paltan gave U Mumba all the confidence to continue the momentum this season, and get past dark horses Bengal Warriors. The Warriors, who have had a dream start to their season, saw them get outclassed by U Mumba, as Rishank Devadiga once again gave an inspiring performance on the day.
Match 28: Puneri Paltan 29-27 Bengaluru Bulls
After a series of draws and losses, Puneri Paltan finally ended their home matches on a high, as they got past last year's finalists Bengaluru Bulls. Surendra Singh, Manjeet Chhillar and star raider Ajay Thakur performed for the Pune outfit, when it was needed.
The Pune side finished fifth following their home leg matches this season.
Match 29: Patna Pirates 32-27 Bengal Warriors
Patna Pirates began their home leg this season on a bright note as they defeated Bengal Warriors once again this time to increase their lead at the top of the table.
Pardeep Narwal, Rohit Kumar and Patna Pirates skipper Manpreet Singh gave out an impressive performance to get their seventh win of the season. Shrikant Jadhav and Girish Ernak tried to get something for the Warriors, but they couldn't be successful at the end.
Match 30: Telugu Titans 26-35 Jaipur Pink Panthers
The inaugural Pro Kabaddi champions had a point to prove and they did it in an impressive fashion as they defeated Telugu Titans to move to the fifth place in the table. The likes of Sonu Narwal, Rajesh Narwal and Kuldeep Singh remained impressive for Jaipur Pink Panthers.
Match 31: Patna Pirates 36-32 Bengaluru Bulls
Patna Pirates have almost made it to the playoffs of the Pro Kabaddi League 2016. The side, led by Manpreet Singh, recorded their eighth victory of the season.
Star raiders Deepak Narwal and Rohit Kumar gave oodles of points to Patna Pirates in their game against the Bulls on Wednesday, which was as-close-as-it-gets. Surjeet Narwal from Bengaluru Bulls stepped from the front to make the match an exciting contest, but in the end, it was defender Mahipal Narwal of the Patna Pirates whose brilliance snatched the win for the Pro Kabaddi 2016 leaders.
Match 32: Bengaluru Bulls 21-35 Dabang Delhi
Dabang Delhi got their first win of the season and they made quite a statement. Defeating the finalists of last year by a 14-point margin in no mean feat but the likes of Kashling Adake and Ravinder Pahal made it look way too easy for the Delhi outfit.
They are on seven points now from eight games but still are rockbottom in the table.
Match 33: Patna Pirates 28-28 Puneri Paltan
Unbelievably, it was another draw this season between Patna Pirates and Puneri Paltan. Both sides had recorded a 30-30 score in their first leg encounter and a similar result took place once again.
Patna Pirates don't have to worry however as they still lead the table and are favourites to making it to the playoffs.
Match 34: Bengal Warriors 32-28 Telugu Titans
Match 35: Patna Pirates 28-34 U Mumba
The defending champions handed the league leader Patna Pirates their first defeat of the season.
Match 36: Jaipur Pink Panthers 30-21 Bengaluru Bulls
The Pink Panthers started their home matches this season on a high note as they got past the finalists of last year by a 11-point margin.
Match 37: Puneri Paltan 32-22 Dabang Delhi
Match 38: Telugu Titans 40-22 Bengaluru Bulls
Match 39: Jaipur Pink Panthers 18-33 Puneri Paltan
Jaipur Pink Panthers got a massive shock in their second home game of the season as Puneri Paltan demolished the hosts by a 15-point margin.
Match 40: Jaipur Pink Panthers 18-34 Bengal Warriors
Bengal Warriors absolutely demolished the Pink Panthers by 16 points in their latest fixture of the season. Jang Kun Lee once again showed his class in the raiding department at the Sawai Mansingh Stadium in Jaipur while Girish Ernak also impressed with his defensive abilities. Shyam Kumar also gave an all-round performance to make sure the Warriors' splendid season continues.
Match 41: Bengal Warriors 17-30 U Mumba
U Mumba got their double over Bengal Warriors this season as Rishank Devadiga and Anup Kumar once again combined to give the defending champions another win and keep the playoffs spot at close range.
Match 42: Jaipur Pink Panthers 24-47 Patna Pirates
Patna Pirates made sure the Pink Panthers don't end their home campaign this season on a high and also not make it to the Pro Kabaddi playoffs for the second time in three seasons.
Match 43: Dabang Delhi 36-44 Telugu Titans
Much was expected from Dabang Delhi in their opening home game this season but their inexperience showed once again as Telugu Titans got past the Delhi side comfortably to keep their fight for earning the playoffs berth very much alive.
Match 44: Bengaluru Bulls 18-39 U Mumba
Match 45: Dabang Delhi 34-67 Patna Pirates
Match 46: Puneri Paltan 41-24 Telugu Titans
Match 47: Dabang Delhi 21-21 Jaipur Pink Panthers
Match 48: Bengaluru Bulls 27-44 Puneri Paltan
Match 49: Dabang Delhi 31-37 Bengal Warriors
Match 50: U Mumba 35-21 Jaipur Pink Panthers
Match 51: Telugu Titans 42-41 Patna Pirates
Telugu Titans became the only team apart from U Mumba to defeat table-toppers Patna Pirates this season. Rahul Chaudhary and Rohit Baliyan remained instrumental for the Titans in the game.
Match 52: U Mumba 30-27 Puneri Paltan
Match 53: Bengal Warriors 26-22 Bengaluru Bulls
Match 54: U Mumba 38-22 Telugu Titans
All hopes of Telugu Titans to enter into the Pro Kabaddi League 2016 semi finals have now ended after this defeat at the hands of the defending champions.
Match 55: Puneri Paltan 43-19 Bengal Warriors
Bengal Warriors couldn't get the win but they did enter their maiden semi finals of the Pro Kabaddi League. Puneri Paltan stood third in the table after their league matches.
Match 56: U Mumba 36-20 Dabang Delhi
U Mumba moved to the top of the table following the 16-point victory to enter the semi finals in some emphatic fashion.