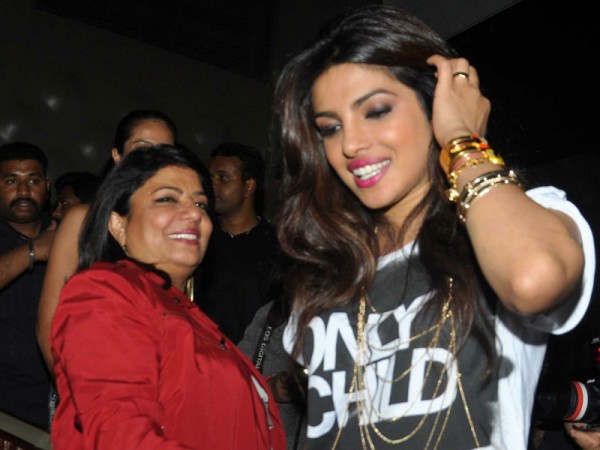 Priyanka Chopra's mother Madhu Chopra has revealed details of when she was told by many that she had gone mad.
Speaking at a panel discussion, Priyanka's mom said many of the actress' colleagues had ridiculed them when they had decided to start her production house with a Bhojpuri film — Bam Bam Bol Raha Hai Kashi. Some had even called PC's mom "mad."
"The first film we did was a Bhojpuri one. You can't imagine what reaction I got from Mumbai, [fom] Priyanka's colleagues and peers. They said, 'Your mom has gone mad, why are you all even making Bhojpuri films? It doesn't go with your brand image'," PTI quoted Madhu as saying.
However, she did not let the negative comments affected her, and instead went ahead to "uplift a region." She said monetary success was not their aim.
"But I told Priyanka, you are uplifting a region that needs your attention. You are doing it for passion, for a cause. I can say it with great pride that commercial success or business was not on our mind. It was forging a path and becoming an option for new regions," the actress' mother said.
The production house named Purple Pebble Pictures started in 2015, and has already produced as many as nine films from various regions.
"We are in our third year and we have nine films, all from different regions. We have made Assamese, Marathi, Punjabi, Sikkimese films... The thing about our production house is we don't take the Hindi film industry to various regions but take the cast and crew from that region, make the film in that region and give them a platform," Madhu said at the event.
Priyanka is now considered one of the most influential women not just in India but also abroad. Her steep rise in career is extremely impressive, and there is certainly no looking back for the diva. And looks like her mother has played a big role in Priyanka's growth in the world of cinema.