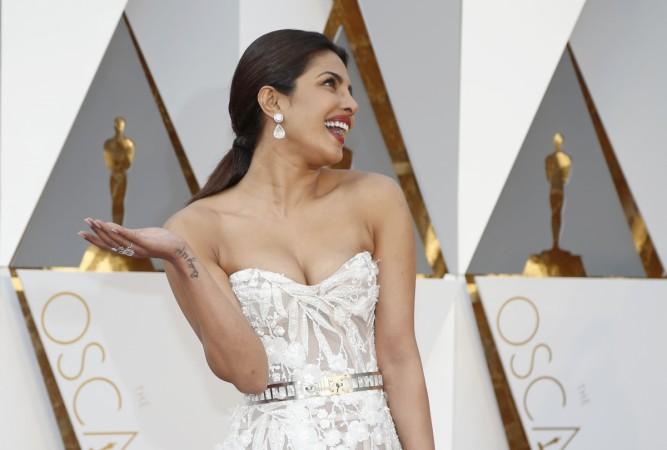 Priyanka Chopra has made India proud once again, and this time by getting featured in Time magazine's recent list of 100 Most Influential People in the World. The list also names other Indians, including RBI governor Raghuram Rajan, tennis star Sania Mirza, Google CEO Sundar Pichai and the founders of Flipkart, Binny Bansal and Sachin Bansal.
The Bollywood diva, who shot to fame in the West with her international albums and her lead role in the American TV series "Quantico," is among the six celebrities to appear on the cover pages of the magazine's special edition. The others featured are actor Leonardo DiCaprio, singer Nicki Minaj, Facebook co-founder Mark Zuckerberg and his wife Priscilla Chan, IMF chief Christine Lagarde and rapper-actor Lin-Manuel Miranda.
Priyanka's "Baywatch" co-star Dwayne Johnson (The Rock) described Priyanka as an ambitious and hardworking actress. "We always quote the saying 'Wear your success like a T-shirt, not like a tuxedo,' and she really does — as big a star as she is, as global as she is, as beautiful as she is, there's this interesting quality of relatability," he told Time magazine.
"When I look at her success from the 50,000-ft. view and see everything that Priyanka has already done, is currently doing and has the desire and the bandwidth to do, I can see that her impact is going to be invaluable," he added.
The other names from the entertainment industry in Time magazine's list include Oscar-winning actor DiCaprio, British singer Adele, comedian Aziz Ansari, actors Johnson, Gael García Bernal, Idris Elba, Oscar Isaac, Mark Rylance, filmmaker Alejandro Gonzalez Inarritu, singer Ariana Grande, reality TV star Caitlyn Jenner, rapper Kendrick Lamar, model Karlie Kloss, and actresses Julia Louis-Dreyfus, Taraji P. Henson, Melissa McCarthy, Gina Rodriguez and Charlize Theron.
Meanwhile, Bollywood celebrities congratulated Priyanka for her yet another achievement. Check out below what celebs have tweeted about her:
Ma'am you're in a league of own... Make us so proud!! Many congratulations! ????? https://t.co/rFGW8ODRaq

— Punit Malhotra (@punitdmalhotra) April 22, 2016
Congratulations my dear. Proud of a fellow Indian. Jai Ho. :) #KuchBhiHoSaktaHai https://t.co/OfgxYxbGhi

— Anupam Kher (@AnupamPkher) April 22, 2016
Congratulations @priyankachopra .. How do you keep outdoing yourself?.. Super achiever.. Super woman https://t.co/SeyHi7d3lz

— Genelia Deshmukh (@geneliad) April 22, 2016
Woooooop!! She makes her own Time!!! My sister ladies and gentlemen. Go go Go mimi didi!! @priyankachopra pic.twitter.com/eO1qniiaD1

— Parineeti Chopra (@ParineetiChopra) April 22, 2016
@priyankachopra v all hope 2 reach a day when v can say dat our journey has truly been #TIME well spent. You can. Congrats

— Hrithik Roshan (@iHrithik) April 21, 2016
This is so bloody cool! @priyankachopra ⚡️ https://t.co/aOJHerZfe5

— Mahira Khan (@TheMahiraKhan) April 21, 2016
@priyankachopra is truly an inspirational #artist. pic.twitter.com/gyGajzSpUZ

— Varun Dhawan (@Varun_dvn) April 21, 2016
Wonderful, wonderful. Delighted, but not surprised. The world is your oyster. @priyankachopra https://t.co/69BLXOq9Cj

— Rahul Bose (@RahulBose1) April 21, 2016
I love this. More power @priyankachopra. Keep shining! pic.twitter.com/fcmauxhzC3

— Dia Mirza (@deespeak) April 21, 2016
Kya Baat Hai PC
Clearly it's your Time!
Bravo! ??????????@priyankachopra pic.twitter.com/Tuv2IFKGLQ

— atul kasbekar (@atulkasbekar) April 21, 2016
#MissIndia to #Bollywood to #Hollywood to #PadmaShri @priyankachopra and now on the cover of #TIME100 - You rock PC , More power to you ???

— Raj Nayak (@rajcheerfull) April 21, 2016
SUCH an inspiration!!!! Shineeeeee on ⭐️⭐️⭐️ @priyankachopra #PCOnTime100 congratulationsss biggest hug ever ????

— Alia Bhatt (@aliaa08) April 21, 2016
A woman who is her own competition. Only she can beat herself. Proud of u @priyankachopra... pic.twitter.com/lx2d3VMrp0

— Priya Gupta (@priyagupta999) April 21, 2016