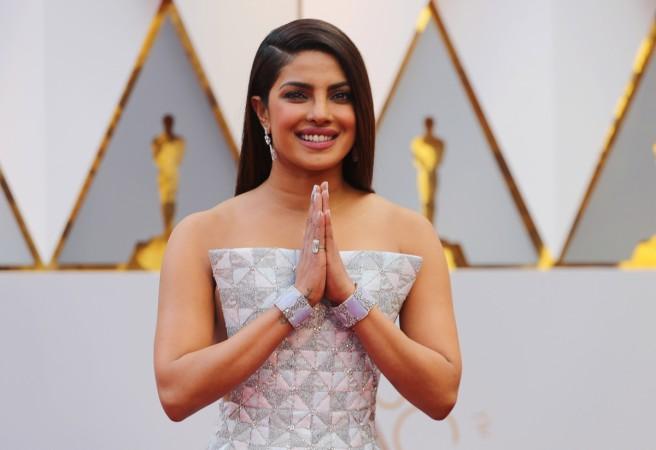 While she couldn't be home, in Mumbai, India, to celebrate the festival of Holi, Priyanka Chopra took Mumbai to Hollywood as she played Holi in Los Angeles. The Baywatch actress, donning shades of pink, blue, orange and purple, revealed on Instagram that she celebrated the colourful festival with The Tonight Show starring host Jimmy Fallon.
Also Read: Beauty and the Beast actress Emma Watson wishes Indian fans happy Holi [VIDEO]
Sharing pictures from the epic holi party, the Quantico star first shared a picture of herself smeared in the colours of Holi followed by a selfie taken by Jimmy Fallon. The star also shared a few pictures with her LA family and team.
The actress had already posted a picture wishing fans a Happy Holi. But it was evident that she was homesick and thus decided to drench her family and friends there in the colours of the festival. One of her pictures was captioned: Happy Holi with the family and team. The white in my house is all colourful now! #nycHoli #homesick – showed how much she missed home.
Chopra appeared on Fallon's show for the third time. The first time she visited, she took the internet by storm when she won wing-eating challenge against Fallon and the second watching her apple-bobbing. This time, she visited the sets for an interview and play a game with Tandem Sculptionary with Fallon, Evan Rachel Wood and Zach Villa of musical guest Rebel And A Basketcase.
Also Read: Scarlett Johansson's Ivanka Trump mimicry outdid the original Trump daughter in this SNL fake perfume ad [VIDEO]
The Bollywood diva made another announcement on Instagram. She shared a slow motion video of herself appearing on Marie Claire Magazine, informing fans how badass she is. The video reveals behind-the-scene footage of the cover photo shoot.
The video is a collage of black and white footage and behind-the-scene events where she is seen sporting different dresses. The sensual photo shoot reveals Chopra posing in a beautiful lacy polka dot dress. The video also sees the actress show off her long legs and her beautiful hair.
The video is captioned: The only thing that can beat being Hollywood's Most Bankable Badass, is being a badass in slow-mo! #GoodHairForDays @marieclairemag
Chopra will soon be seen in a negative role in Baywatch. The movie hits theatres on May 26 and stars Dwayne Johnson, Zac Effron, Alexandra Daddario and others in the lead.