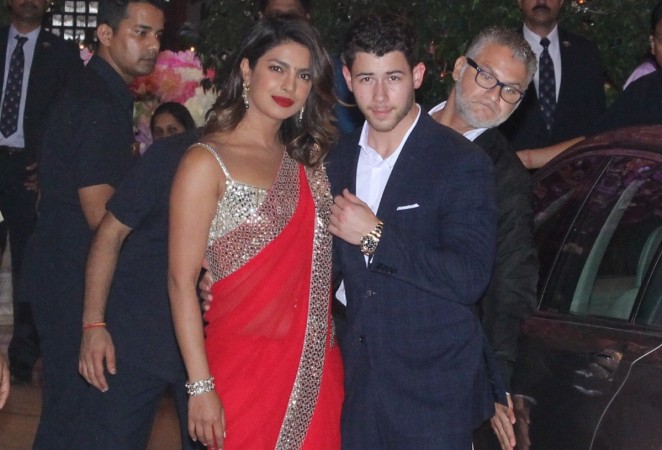 The photos of Priyanka Chopra and beau Nick Jonas from their Roka ceremony have surfaced online. The official engagement party of the couple will take place today and they'll exchange rings.
A photo, which was released by Filmfare, shows the couple traditional Indian attire, with Priyanka wearing yellow while Nick wore white. Another photo was also released recently, showing the couple performing the Roka puja. Jonas's parents also wore Indian attire. Watch the photos below.
Below is the first photo of the couple today, before the roka ceremony began.
The Roka ceremony is an event which represents the official bonding between the bride and groom's families. Following this, the wedding date is discussed and a family celebration takes place.
Mumbai Mirror also released a few photos with alternate angles from the event. The watermarked photos can be seen below.
Times Now had reported earlier today that a pooja will be held at Priyanka Chopra's home. The news outlet also learned from a source close to Chopra that the actress and her mother will in all likelihood, wear designer apparel and that the theme for the engagement party will be gold and white.
It was DNA India who first reported that Nick Jonas will be arriving at Mumbai with his family for a big celebration. The singer landed in Mumbai on August 16 with his mother Denise and father Kevin Jonas Sr.
On Friday night the couple was spotted arriving at JW Marriot, Mumbai for a family dinner. Nick was all smiles and the couple did not shy away from stealing glances while cameras clicked away. PeeCee's mother Madhu Chopra and brother Siddharth were also present at the dinner.
Priyanka's sister Parineeti Chopra and Salman Khan's sister Arpita also attended the ceremony in Mumbai.
NDTV reports that many rooms have been booked for guests at a hotel.
Priyanka Chopra met Nick Jonas at Met Gala in 2017 when they attended the event together. On being asked by Jimmy Kimmel why she attended the event with Jonas, she said, "We were both wearing Ralph Lauren, and we decided to go together, and it was fun." As reported by IANS on December 19, last year, Jonas has revealed how the couple first met.
Jonas said, "We met through a mutual friend who she did "Quantico" with, this guy Graham and we met up like in New York the first time and the same day I think we found out that we are both going to the MET gala with Ralph Lauren." The singer added, "And as strange as it sounds but we couldn't have planned it. We just had a great time. She's a lovely person and I'm dying now to go to India."