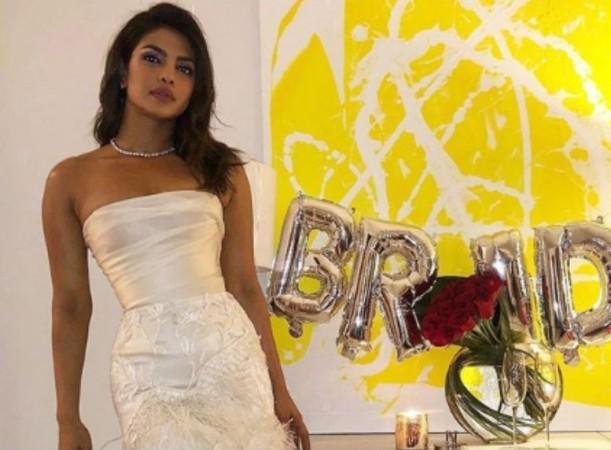 Priyanka Chopra faced backlash on social media for her bridal shower dress that was designed by Harvey Weinstein's ex-wife, Georgina Chapman. However, the actress did not waste much time to defend herself.
PeeCee looked gorgeous in the white Marchesa gown, and she received a lot of praises for her look. But a section of netizens found it wrong on Priyanka's part to opt for Chapman's design, whose infamous ex-husband has been accused of raping and sexually harassing scores of women.
It is to be noted that earlier a number of actresses from Hollywood were reportedly pressurized by Weinstein into wearing Marchesa gowns in order to benefit his wife's business.
However, Priyanka defended her action by saying that Chapman should not be punished for Weinstein's ill-deeds. She further called her a "self-made" woman, and she believes in women supporting women.
"Georgina's a friend of mine, and she has been. And it's not her fault. And I don't think it's right to take it out on a self-made woman what somebody in her life did. That's the wrong attitude. I have known her for years, and that was a beautiful gown, and deserved to be worn by a bride-to-be. And it made me feel like a princess. It was the right choice," Priyanka said justifying her choice.
Nonetheless, many were still not convinced with Priyanka's thoughts, and further questioned her for calling Chapman a "self-made" woman. On the other side, many others supported the Quantico actress by questioning why women are held accountable for the actions of men in their lives.
Wow. Priyanka has the balls to call Harvey Weinstein's wife "self made". I don't think that phrase means what you think it does, @priyankachopra. Why don't you ask Georgina how much of Marchesa Harvey owns? Or how it was his money that started the business and kept it afloat? https://t.co/rHkTmDFgSe

— John Doe (@JohnDoe78359022) October 31, 2018
⚀georgina is a nobody without her rapist husband ⚀ clearing a path 4 her ⚀ Weinstein FORCED A-list actresses to wear marchesa ⚀
.
.#PriyankaChopra believes Harvey weinstein's Wife is self-made?

— Butt Ugly Art (@maestrocanada) November 1, 2018
Priyanka, your friend is not self made. Marchesa Fashion is an direct outgrowth from the sexist and misogynistic Hollywood trash that sat quietly for years while knowing full well the criminal and degenerate behavior of that perverted pig Weinstein.

— Lipton ☕ & ? s (@ybrig2) October 31, 2018
Blaming Priyanka Chopra for wearing a dress by Georgina Chapman, the EX of Harvey Weinstein, is the perfect example of the patriarchal notion that women are still the moral compasses for men and it is somehow THEIR fault and not the man's himself when he screws up.

— sai sailaja seshadri (@Saisailu97) October 31, 2018
Why on on earth is there a backlash against the wife of Weinstein ?? She left him. If someone is guilty does it make their entire family guilty too ?

— Juezan J (@lon_jeremy) October 31, 2018
Meanwhile, there are rumours that Priyanka and Nick Jonas have planned to tie the knot by the end of this year. Reports stated that the wedding will be held from November 29 to December 2. No official announcement regarding their wedding date has been made yet.