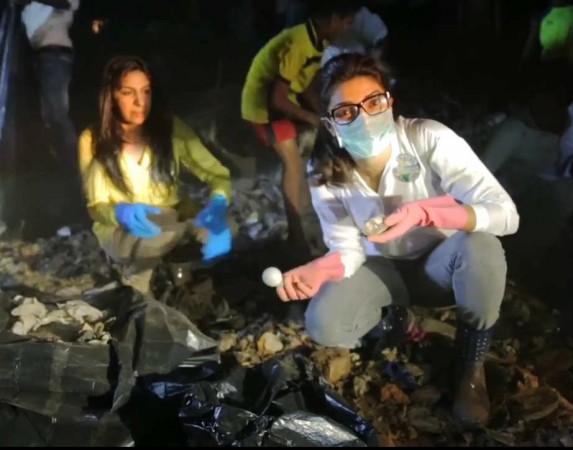 Keeping in tune with "Swachh Bharat Abhiyan" Bollywood actress Priyanka Chopra cleaned a place in Versova, painted a house and planted trees in the place.
Chopra chose to clean up a place in Versova, where she had shot her blockbuster movie "Agneepath". She put a lot of effort for 16 days to transform the place, which was covered with heaps of dirt into a clean and beautiful playground for children. On 24 November, she posted the video of the cleaning process and wrote, "Here it is... My contribution towards the #SwachhBharatAbhiyan."
Narendra Modi, who had nominated the actress to carry forward the message of Clean India, was very quick to laud her efforts and praised her on Twitter. "An innovative effort by @priyankachopra. It is a wonderful way to bring people together to create a Swachh Bharat. Kudos! #MyCleanIndia," Modi tweeted.
Chopra also responded to Modi's message and thanked him for reminding her of Gandhiji's idea of change. The actress tweeted, "Gandhiji said 'Be the change you want to see'- thank you @narendramodi for reminding me of that! #MyCleanIndia can happen! #ChangingMindsets."
The 11-minute video that Chopra posted on her Twitter page offers a peek at how the place in Versova looked before and after cleaning. The actress can also be heard saying: "This is my Swachh Bharat Abhiyan and it took me little longer than I wanted. But when Prime Minister of India asked me to be one of his Navartnas, I was very excited. I wanted it to be something that will sustain long for myself."
"This is versova and I had come here during the shooting of "Agneepath". We had put a big set of the basthi for the filming here. I remember the children who live here will play on mounds of garbage and that is there life," she added.
"Let's be honest. We are a cynical bunch of people. What are we going to clean? How are we going to clean? The plan is to clean up this place and rehabilitate it. That is the best thing that we can do. Eventually, it is up to them to sustain it. Idea of doing this is to create something, which long lasts. Hopes for the best it stays for long."
In the video, the actress, who is accompanied by her mother, is also seen encouraging people of the area to clean up. The residents of the area have thanked her for cleaning the area and are all praise for the "Mary Kom" star.